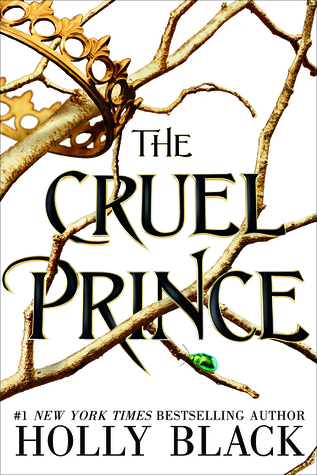 I haven't read many books by Holly Black, mostly because they just haven't looked appealing to me, though I did enjoy a book she had co-written with Cassandra Clare.  Still, though I enjoy a good fantasy story, Black's work just never looked like something I'd enjoy until I came across the description for The Cruel Prince.  Something about this stood out and I looked forward to the read.
Unfortunately, it was absolutely underwhelming for me.
A young girl (Jude) and her sisters are sent to the High Court of Faerie after their parents are killed. While they live there for a decade, they are never fully accepted. Jude and her sisters are mortal and those in the fey world don't like mortals too much. And one who despises humans the most is Prince Cardan, the youngest son of High King.
And even though she doesn't seem to be wanted in the court, Jude really wants to belong. This is, after all, really the only home she knows.  But to really belong she needs to face up to the evil Prince Cardan and in doing so she learns much more about the secrets and mysteries that go on behind closed doors on the castle.  And she finds that she's quite capable of delivering some cruel blows to those royal members she dislikes.  Which might just bring down the whole system to which she wants to belong.
First off, I just didn't care for anyone here.  We could have the best written story line, but if it doesn't matter – if I don't have a reason to care about it, then it's worthless.  And clearly I am not the target audience. Meaning… I think that possibly … possibly …. if you are a teen girl who loves a fantasy in which a girl rebels against a handsome but cruel prince, then maybe this is the right book for you.
The failure for me to connect and care about any or all of these characters really overwhelmed my reading of the book. Author Holly Black has a strong fan base who will undoubtedly love this book, but it does nothing to bring me into her readership fold.
Looking for a good book? The Cruel Prince by Holly Black is a YA fantasy with a predictable amount of 'unlikely romance' that may appeal to a certain readership but the book does not generally appeal.
I received a digital copy of this book from the publisher, through Netgalley, in exchange for an honest review.
* * * * * *
The Cruel Prince
author: Holly Black
series: The Folk of the Air #1
publisher: Little, Brown Books for Young Readers
ISBN: 0316310271
hardcover, 370 pages