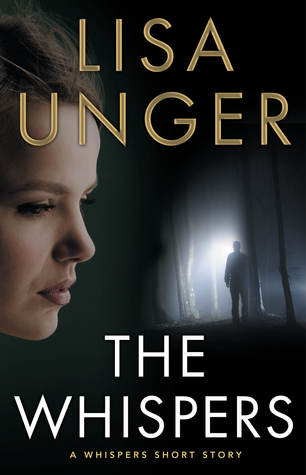 Publishers will resort to a lot of 'gimmicks' in order to sell books.  I've worked in bookstores and libraries and with publishers, and I understand the marketing desire to one-up the competition.  And so, when I received notice of advanced short stories as a prelude to a novel, I was just a little skeptical.
But sometimes gimmicks work.
The first thing I did upon finishing this was look for the next story and the novel which follows.  This is good.  And of course gimmick or no gimmick, what you need is good writing to capture a reader's attention and this does just that.
In The Whispers, a woman, Eloise Montgomery, is convalescing from a car accident which killed her husband and older daughter. This first story focuses on Eloise's attempts to move on with her life for both her own and her younger daughter's sake, as we all must move on after a tragedy, difficult as it sometimes is.  But Eloise begins to hear and see things, little whispers of voices and visions that clue her in to other things that are happening in the world.  Things she shouldn't be able to know about.  Eloise then has to make some choices.  First, whether to believe in herself enough to accept that what she hears and sees as true; and then, if accepting, whether or not to act on it.
Author Lisa Unger does a fantastic job of writing characters that appeal to the reader and are 100% believable.  You can't help but feel for what Eloise is going through, both with the loss of loved ones, and the struggle to move on.  But Unger also writes a convincing mystery…a paranormal mystery.  And I have to admit that if I had read the words "paranormal mystery" in the blurb, I probably wouldn't have been interested in reading this (for no other reason than it doesn't sound appealing to me).
Despite the appearance of a publishing 'gimmick' and a genre that I wouldn't necessarily gravitate toward (paranormal mystery), this was a wonderful read and highly recommended.  I look forward to the next installment!
Looking for a good book?  Not a book, but a prequel short, The Whispers, by Lisa Unger, is a wonderful read.
* * * * * *
The Whispers (short story)
author: Lisa Unger
series: The Whispers #1
publisher: Pocket Star
ISBN-13: 9781476797786
digital, 66 pages