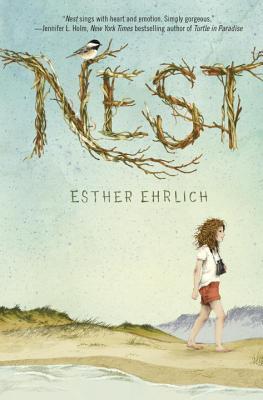 The debut novel by Esther Ehrlich, Nest, is a beautiful, poignant, slightly dark tale of the trials of childhood.
Set in the early 1970's, eleven-year-old "Chirp" Orenstein is beginning to learn that life can be cruel to a child. Her mother struggles with a terrible disease and spends time in a 'loony bin' and goes through electro-shock therapy. As a Jew, Chirp struggles through the Christian holidays and the lack of understanding from her classmates. Her closest friend is Joey, a neighbor boy who is often beat up by his father and locked out of his own home. When she and Joey run off together for an adventure and to try to find something in their lives that they can take control of, they discover that the world might be too big and unforgiving for the pre-teens.
Author Esther Ehrlich's writing is magnificent. It is beautiful and lyrical without being too flowery or 'sappy.' She has created characters, all of them, that are so real that you might think you are reading a journal. Chirp and Joey are the strongest, most vivid characters, but Chirp's family (father, mother, sister), teachers, and even Joey's family (rarely seen) strike a chord as being flesh-and-blood people rather than simply characters in a book.
The story is a bit depressing and it is on the strength of the characters that I kept reading. Chirp is growing up in an era that I am very familiar with (the 1970's) and there doesn't seem to be much that is going 'right' in her life. Of course, she perseveres and grows stronger, but there is so little happiness here that even upon finishing the book, I can't say that I had any truly positive feelings for Chirp (or Joey) or that life would be any better for them in the days (and years) to come.
I'm not sure why this book is set in 1972 other than that it might be a time in which the author is well acquainted. There seems to be nothing specific to this era necessary for the story, though it certainly made it easy for someone, such as myself, to recall the time and events. But would it make it easier, or more difficult, for young readers today (or have no impact either way)? Could this story have been set today? Perhaps. Though the shock therapy would likely not have occurred.
That Chirp is a bird-watcher is a very nice touch (this was certainly not nearly as common in the 1970's as it might be today), and of course a 'nest' is a home or safe haven for Chirp, but I actually thought that Chirp's bird-watching interest could have been used just a little more.
A nice read, well written, but didn't leave me with a strong sense of … anything … upon finishing.
Looking for a good book? Nest, by Esther Ehrlich, is a beautiful story of a preteen growing up in the 1970's.
* * * * * *
Nest
author: Esther Ehrlich
publisher: Wendy Lamb Books
ISBN: 0385386079
hardcover, 336 pages