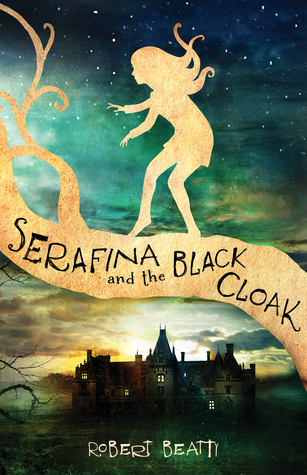 Young Serafina lives on the Biltmore Estate with her father.  They live illegally in the basement so Serafina stays hidden, coming out at night to catch rats, which she does extremely well.  But because of this, Serafina has no friends and doesn't experience much that a normal pre-teen might get to experience.  She does, however, see some things that she shouldn't see.
When some children from the estate go missing, Serafina is certain she knows who is behind it … the man in the black cloak who has been walking in the halls of the estate at night.
Serafina reveals herself to young Braeden Vanderbilt, the nephew of the Biltmore's owners, who finds that he enjoys Serafina's company, and as child of wealth (and protection) has also not had a normal upbringing.
When concerns over the missing children strike close to home and Braeden promises that he'll see to it that a thorough search is done to find the children, Serafina takes it upon herself to confront and contain the man in the black cloak.  She has to defy her own father, something she's never done, to do so.
I was really taken with the characters here, who are presented in such a real fashion.  Everything about the writing brings the reader right in.  It's a great feeling, as a reader, to be so involved in a story and so connected with the characters.  Young readers are bound to find themselves involved with this story.  The mystery of who the man in the black cloak really is and what he wants is very strong.  For 250 pages I was really interested in what was going on.
But the book is almost 300 pages long.
The ending of this book wraps things up very quickly, much too neatly, and tosses out some unexpected bits that changes the nature of the book.  From a page-turning mystery/adventure this book suddenly becomes a fantasy, with magic explaining things away where there really wasn't any earlier in the book.  It felt like a completely different story as we got to the end.  The climax really came out of the blue for me.  The denouement brought it back on track, and I really appreciated it and it does leave the door open for sequels.
I liked so much of this book.  I even liked the climax to the story, except that it didn't feel like the same story.  I'd like to read further adventures of Serafina – I suspect there's more in the cards for Braeden –  but I'm hoping it ties together better.
Looking for a good book?  Serafina and the Black Cloak is a thrilling mystery with a fantasy ending that should have young readers fully engaged, but possibly a bit a confused.
I received a digital copy of this book from the publisher, through Netgalley, in exchange for an honest review.
* * * * * *
Serafina and the Black Cloak
author: Robert Beatty
series: Serafina #1
publisher: Disney•Hyperion
ISBN: 1484709012
hardcover, 293 pages