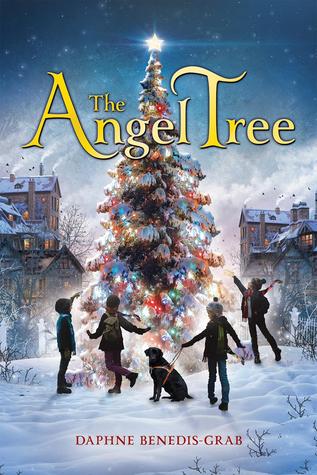 In the cozy town of Pine River there is a holiday tradition in which a special Christmas tree is decorated in the town and no one seems to know who is responsible for it.  But what is more amazing is the gift that the tree brings each season.  Over the course of decades it has been that anyone can write down their wish and hang it on the tree and the legend is that everyone's wish has always come true.  It has been an opportunity for the community to come together to look out for one another.
The story in this book is about four children (Lucy, Joe, Max, and Cami) who act a little "Nancy Drew/Hardy Boys" and decide they need to know who is behind the Angel Tree.  Each of the four sleuths has their own special wish on the Angel Tree.  Lucy, who is blind, wants medical treatment for her guide dog who is dying of cancer.  Joe wants to spend Christmas with his mom, who is in the military and currently stationed over-seas.  Max wants a new house as his recently burned down.  Cami has a gift for music and wants a new instrument as she sold hers
One thing that the book makes evident, is that there are plenty of people who have some mis-fortune.  The four youngster of the story seem to live in poverty in this town that appears to need the Angel Tree.
There is certainly something very nice and touching about the idea of the tree.  Most churches I've been in around the holidays have something very similar…pick a name off the tree and try to buy what the family in need have listed on their tree tag.  But the idea of the community coming together to support those in need is clearly a community that most would want to belong to.
What I didn't care for in this story, however, was the idea that the secret benefactor would be uncovered.  Other than curiosity on the part of the kids, there wasn't any reason for it.  When someone chooses to do something anonymously, we should honor that desire, not try to make that person public.  That basic premise of uncovering the identity of someone doing something good but wishing to remain unknown, leaves a sore mark for me.  As a book for children, this would suggest that we can intrude on someone's privacy if we want to do something 'good' for them.  I'm not sure I would agree with that.
Looking for a good book?  The Angel Tree is a nice idea, in a cozy little town, but answers a question that wasn't looking to be answered.
* * * * * *
The Angel Tree
author: Daphne Benedis-Grab
publisher: Scholastic Press
ISBN: 0545613787
hardcover, 256 pages