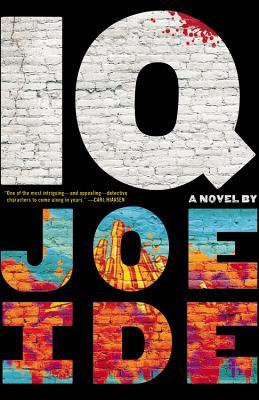 Isaiah (IQ) Quintabe is a kid from the streets in a tough part of town. Early in his life he, like many other kids his age, would shoplift from local stores and then sell his items on eBay.  But IQ discovered he had another talent.  A talent for solving problems.  He straightens out his ways and just by word of mouth develops a clientele asking for his help.  Today, IQ is hired to find out who is threatening the rapper "Black the Knife."  It's going to take all his street smarts and all his sleuthing skills to figure this one out.
I was really eager for this book, and it's a relatively quick read, but by the end, I was terribly underwhelmed.
While this is one book about Isaiah Quintabe, it's two stories, jumping back and forth.  Sometimes we're in his early days watching him discover and develop his skills, and then sometimes we're in 'today' as he gets hired by Black the Knife and he faces off against some pretty tough costumers.
Switching timelines is not a new literary device, and author Joe Ide doesn't do anything new with the idea.  The chapters clearly tell us which time period we are in and the 2013 years are pretty linear and easy to follow along.  But the 2005/2006 years don't offer us quite the same consistency.  Simply…the switching of narrative was annoying.  And pointless.  I think it would have been smoother to have one story to tell, with some sub-plot and red-herrings, and then in a different book tell IQ's back story.  But doing it all at once in this first novel was rather muddy.  It's like we got a novella, and the author's notes on how the character began.
I liked Isaiah well enough but I wasn't  but I wasn't truly drawn to the character.  He was interesting to observe but I never felt involved.  In large part this was because of the jumping around stories.  I could have gotten involved in either one of the stories but they really were different enough that it was difficult to stay connected.  Given a preference, I enjoyed the 2013 story.  It wasn't important to me how IQ got to this stage in his life.  Not yet.
Over all, not a bad first novel, but not quite the home-run that I was hoping for.
Looking for a good book?  IQ, by Joe Ide, is an interesting social mystery, but skips around the timelines too much to be really involving.
I received a digital copy of this book from the publisher, through Netgalley, in exchange for an honest review.
* * * * * *
IQ
author: Joe Ide
publisher: Mullholland Books
ISBN: 0316267724
hardcover, 336 pages