THROWBACK THURSDAY: REVIEWING A REISSUE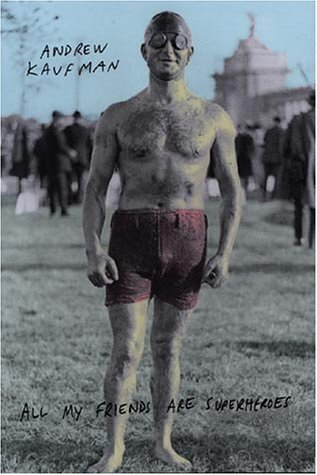 This was a surprising little book, and I quite enjoyed it, though I was confused for a time, as to whom it was intended.
I understand, now, that this is a reissue, though I was not aware of that when I read the book (no, I don't typically research or look up a book  that I receive for review, preferring to go in 'fresh').
For a time I had collected a large number of books with 'superheroes' in the title or the theme, this being among that collection.  And as usual, I didn't know what to expect going in, but I can say that it wasn't this.  This isn't so much about superheroes – caped crusaders; do-gooders; costumed crime-fighters – rather, this is about a man (Tom) in love with a woman who doesn't pay him much attention.  He identifies  the people he knows by their 'super-powers' — the individual traits that identify a person.  Because the woman he loves never looks at him, his 'power' is invisibility.  The woman that he loves is the "Perfectionist."
Other superheroes are "The Ear" "Shadowless Man" "The Impossible Man" "Falling Girl" "The Battery" and a host of others.  So many others, in fact, it's hard to keep them and their relationships with Tom straight.
This is a clever, kind of depressing (through much of the book) story of love and determination and I found it easy to identify with Tom and his friends.  Using superpowers rather than names was a clever 'cheat.'  Author Andrew Kaufman didn't have to set up the characters or describe what they were like.  By giving them identifying nicknames/superhero names, the character identification was done for us.
But this was clever because we all know "The Couch Surfer" and "The Stress Bunny" and the other identified superhero powers
What threw me were the illustrations.  yes, illustrations.
The book has a number of B&W illustrations by Tom Percival.  The drawings a generally fine (nothing outstandingly remarkable), but their inclusion reminds me of the YA books that I remember reading.  The style and quality of the images are so much like those you might find in a book by E.L. Konigsburg or Karen Cushman, that I thought that this was a YA book for quite a while, until the story got a little too 'heavy' for young readers.

Art by Tom Percival from All My Friends Are Superheroes, by Andrew Kaufman
But over-all, this book surprised me and I can understand why it has been reissued.  This is a great opportunity to check it out.
Looking for a good book?  All My Friends Are Superheroes, by Andrew Kaufman, is a quick, easy read that will make you chuckle and nod your head in recognition of the people and situations they are in.
I received a digital copy of this book from the publisher, through Netgalley, in exchange for an honest review.
* * * * * *
All My Friends Are Superheroes
author: Andrew Kaufman
publisher: Coach House Book
ISBN: 1552451305
paperback, 120 pages