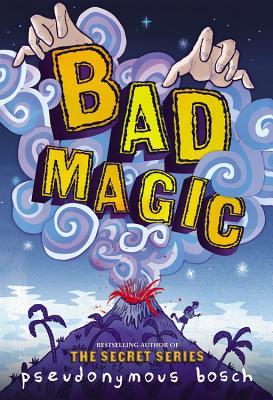 Bad Magic is good fun.
Young man, Clay, gets in hot water at school when words from his journal appear as graffiti on a school wall.  Clay is blamed for the tagging (even though he didn't do it), labelled as a problem, and sent to a summer camp for troubled kids.  The camp is on a remote, volcanic island and everything, and everyone, there is just a little bit off-kilter.  Clay wonders if he'll ever get off the island safely and seeks to solve as many of the islands' riddles as possible.
There is a lot of fun in this book and it offers up a really nice introduction to Shakespeare's The Tempest, hopefully encouraging the reader to seek out the play.  But I can't help but wonder who the target audience is.  Looking at the style of art on the cover and the interior illustrations, and at the marketing, and even the style of writing itself, it would appear that this is targeted toward the younger readers — 4th or 5th grade.  But some of the concepts (specifically the association with The Tempest) and the additional little sub-plots, and the length of the book, would suggest middle school readers.  Finding its niche may be the toughest job for this book.
The story contains a nice blend of mystery and fantasy while rooting it with a main character who is a young Everyman.  The additional characters are just that … characters (and I mean this in a good sense) — each with unique traits and qualities that help the reader identify them.  Among the cast of characters is the island itself — as one might expect if you are familiar with The Tempest.
The book is a bit slow at times (I have to admit I got bored shortly after Clay arrived on the island), in part I suspect because there's a great deal of set-up.  A lot of set-up.  I suspect that there are intended sequels and we're being set up for all the future books, and not just this one.  That said, once the set-up is over, we do get to have some fun.  I personally enjoyed the library scenes and the characters there the most, though we don't get to them until after half way through the book.
As a reader, once I got settled on the island, I had good fun, but it took my awhile to get there.  I am not familiar with the author "Pseudonymous Bosch" (sounds more like a marketing gimmick than a pseudonym), but I am not overly impressed.  It was a fun book, but I'm not eagerly anticipating the next installment.
Looking for a good book?  Bad Magic is a fun fantasy/mystery read for young readers that may take a little while to get in to, but should be fun along the way and will hopefully tempt the young reader to seek out some Shakespeare along the way.
* * * * * *
Bad Magic
author: Pseudonymous Bosch
publisher: Little, Brown Books for Young Readers
ISBN: 0316320382
hardcover, 400 pages