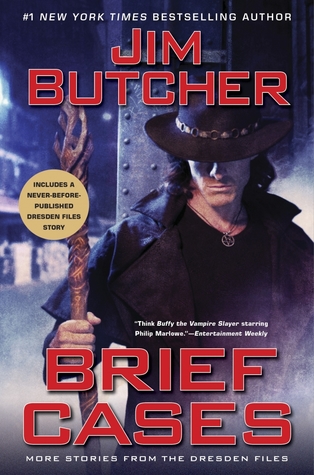 Despite all the reading I do, I haven't read very many of Jim Butcher's Dresden Files series. I've read one book, watched some of the television series, and read a number of graphic novel adaptations … and I've enjoyed them all.  In part, I haven't read many Dresden Files books because I'm so back-logged with ARC's (Advance Reading Copy) and a long list of books I'd like to read. Fortunately, for me, Brief Cases, a collection of short stories in the Dresden Files world became available as an ARC.
The Dresden Files are fun.
What more needs to be said?  A big part of the appeal to this series is that author Jim Butcher has made it fun.  Harry Dresden is a smart, sassy hero who gets himself into as much trouble as he gets out of – and we're not always sure he's going to get out of trouble.
You don't really need to have read any other books in the series to enjoy this collection of short stories but let's face it … people don't usually buy collections of short stories so it's most likely that if you pick this up, you are already familiar with the series and the characters.   However, most of these stories have been previously published in other collections, so true fans may already have read them. Butcher introduces each story and lets the reader know where in the order of the books, the story takes place. This didn't mean much to me.  I simply enjoyed them as fantasy stories.
Three of the stories include a Bigfoot character. I think I enjoyed these the most as we see a number of different sides to Harry Dresden and the Bigfoot character fits in so well with the Dresden Files menagerie. I also enjoyed "Jury Duty" in which Dresden sits on a jury and suspects that there is paranormal involved and solves the crime before the case is concluded.
The stories in which Harry is not the narrator/POV, were my least favorite. They just didn't have the charm of a Harry Dresden story.
I like short fiction, and I really enjoyed these stories, even though I'm not a regular follower of the books. We get a good idea of the fun, the danger, and the uniqueness of the series through these stories. It is worth reading if you like fantasy that has some danger and a touch of humor.
This book includes the following:
"A Fistful of Warlocks"
"B is for Bigfoot"
"AAAA Wizardry"
"I Was a Teenage Bigfoot"
"Curses"
"Even Hand"
"Bigfoot on Campus"
"Bombshells"
"Cold Case"
"Jury Duty"
"Day One"
"Zoo Day"
Looking for a good book? Brief Cases by Jim Butcher is a collection of short stories from the Dresden Files and showcases the fun and mysterious of the series in short snippets.  Each of the stories is worth reading, especially for fans of the series.
I received a digital copy of this book from the publisher, through Netgalley, in exchange for an honest review.
* * * * * *
Brief Cases
author: Jim Butcher
series: The Dresden Files #15.1
publisher: Ace Books
ISBN: 0451492102
hardcover, 437 pages