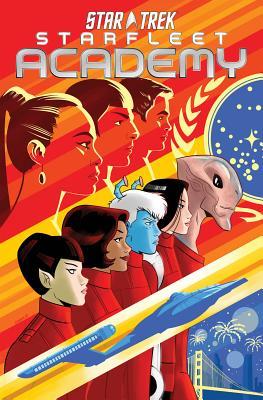 I don't think I was expecting too much with this graphic novel.  It appears to be targeted to a younger reading audience – those who still watch the Cartoon Network as well as the Star Trek movies and I thought the story might be so simple as to be almost laughable.  But publisher IDW and author/artist team Mike Johnson, Ryan Parrott, and Derek Charm have done a really nice job of putting together a story that just might draw younger readers to the comic book/graphic novel market.
The story picks up on the re-boot team of Kirk, Spock, Uhura, etc during their academy days.  Uhura detects a transmission of distress and attempts to track it.
But this is about Starfleet Academy, not just the Enterprise crew in their younger days.  There is another story, with another group of group of characters who bond as they go through the rigors of the academy.  There is T'Laan of Vulcan, Shev – an Andorian, humans Lucia Gonzales and Grace Chen, and a new race (to me, anyway) – "Monchezkin" – and student Vel K'Bentayr.  Anyone sense the diversity here?
There's a good balance between the new characters and the traditional Kirk/Spock/McCoy/etc crew, but the story for the traditional crew members feels like a lot of re-telling.  We get more of Kirk's being a womanizing.  We get more of Spock and Uhura's relationship.  We get a glimpse of Chekov's mad skills.  We even get a little bit of Carol Marcus (so we older Trekkies can say, "Ah, ha!"
The cross-over between the traditional and the new crews feels natural and I think the book succeeds with what I presume is one of the primary goals – to generate interest in the new characters.
The art is a bit 'flat' but in the style of television cartoon animation.  It is bold and colorful and very eye-catching.  The characters are drawn consistently and there is plenty of action.
Looking for a good book?  Star Trek: Starfleet Academy is a really good graphic novel to appeal to younger fans of the re-booted Star Trek series but should also be enjoyed by the older Star Trek fans as well.
I received a digital copy of this book from the publisher, through Netgalley, in exchange for an honest review.
* * * * * *
Star Trek: Starfleet Academy
author: Mike Johnson
artists: Ryan Parrott and Derek Charm
publisher: IDW Publishing
ISBN: 1631406639
paperback, 120 pages