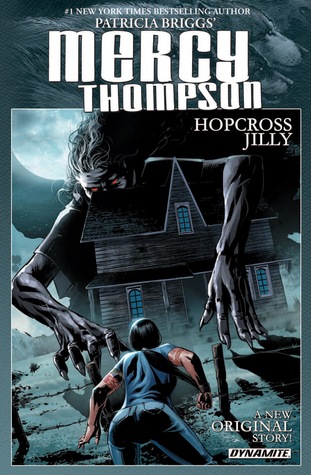 I loved this book.
I am not at all familiar with author Patricia Briggs or with her character Mercy Thompson, other than through this graphic novel, but I really did enjoy this book.
Mercy Thompson is a shapeshifter and an honorary member of a local werewolf pack in this modern world where people with such abilities have been able to come out of the closet.  This book focuses a little more on Mercy's stepdaughter, Jesse, who has the typical teenage/high school troubles, in addition to being the stepdaughter of a local shapeshifter.  Hopcross Jilly begins with Mercy as a coyote, leading a pack of werewolves out for an evening run and discovering the bones of a child buried in the earth nearby.  Some of the locals, still not accustomed to werewolves and shapeshifters in their midst, wonder if it weren't the wolves who killed the child, now unearthed.  Mercy helps the local authorities with some abilities that only she and her friends can provide (the extra powerful sense of smell) and they discover a slew of children's bodies in the area.  Meanwhile, Jesse, already a bit of an outcast in school, now has to put up with kids taunting her as being a member of a family of killers.  But Jesse's a good girl and puts up with the taunts, despite her frustration, and it helps that the new girl in school is someone Jesse can talk to.
This works well for a number of reasons.  First, the characters….  The world is not lacking for supernatural characters living in the modern world.  I couldn't help but draw some similarities to Charlaine Harris' Sookie Stackhouse series.  But Sookie is Southern, which I don't mind reading, but it's not something I can relate to.  Marcy, on the other hand, has a Native American connection, which I find fascinating and appealing.  There is also the manner of Mercy's attitude and behavior, which strikes me is ways I perhaps see myself…intelligent, calm, belligerent, and ticking people off on purpose, but ultimately being helpful..  All the characters are well drawn (both literally and figuratively).
This story….  Hopcross Jilly starts out quite well and draws along some real intrigue.  It ultimately wraps up just a little too neatly and the ending can be seen a mile away, so there are no surprises in store.
The storytelling….  This is where the book really shines.  Patricia Briggs and Rik Hoskin know how to tell a story and to keep the reader interested.  We have three stories developing (Mercy's, Jesse's, and the killer's) and Briggs moves us back and forth between the stories deftly.  While I didn't want to leave Mercy's story, I DID want to go back and see what was happening with Jesse.  On and on it went this way, and each section built just the right amount and moved the story forward until the big confrontation and finally the denouement.  It is text-book storytelling, and it is done well, and even though we can see the ending coming, we're still invested in the story and the characters.
The art by Tom Garcia is stunning.  It captures the darkness of the werewolf life, but is not so dark and moody that we lose the sense of 'common-ness' in which these people live.
This is an all-around winner.  It's my first foray into the world of Mercy Thompson, but I'll be back.
Looking for a good book?  The graphic novel Mercy Thompson: Hopcross Jilly is a great read for fans of fantasy, dark fantasy, and TrueBlood lovers.
I received a digital copy of this book from the publisher, through Netgalley, in exchange for an honest review.
* * * * * *
Mercy Thompson: Hopcross Jilly
authors: Patricia Briggs, Rik Hoskin
artist: Tom Garcia
series: Mercedes Thompson Graphic Novels
publisher: Dynamite Entertainment
ISBN: 1606906682
hardcover, 168 pages