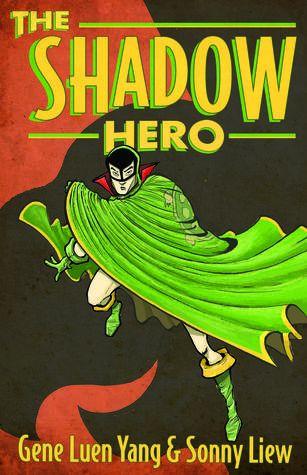 This is easily one of the most interesting superhero graphic novels I have ever read.
First, a little history… the 1940's were considered a Golden Age for comic books.  A new format, cheap, pulp paper, and a wide-ranging readership gave birth to a variety of stories and titles and characters.  Some would live on and many others fade in to obscurity.  There has been a bit of revitalization in 'obscure' super heroes and crime fighters (see my review of Masks which revives The Green Lama, Black Terror, The Spider,  Black Bat and others)lately, and it's actually kind of exciting to see the creativity of the '30's and '40's come to life.
The Shadow Hero brings back the first Asian American superhero … the Green Turtle.  He might also be the first Kung-Fu superhero.  Born without any super powers, he is pushed in to super-hero-dom by a domineering mother (she was saved by a superhero [the Anchor of Justice]) and decides it would be a nice career for her son.  Hank doesn't want to be a superhero (what kid wants to do what his parents tell him to?), but fate and fortune come together for Hank to put on the raggedy, homemade costume and for a Chinese spirit to enter in to him and grant him one wish, and the superhero is born.
Although the domineering mother become more than a little annoying as I read this, I otherwise really enjoyed the rather simple, but active story.  Author Gene Luen Yang puts a slightly modern stamp on this creation and offers up a number of explanations to some of the biggest question marks surrounding the original Green Turtle character.  It all blends together quite remarkably.  The art by Sonny Liew is perfect for the story.
I'm not Asian, I'm not a huge superhero fan (though don't you dare try to keep me away from any Marvel movies!), I'm not even the biggest of comics readers, but I really enjoyed this book.  I even had concerns when I first started, thinking…"Ho-boy…a Chinese superhero from the 40's… why did I choose to read this?"  But there's a gentility, a simplicity, and even a universal attitude in this that really appeals.
In addition to Yang's really nice story, is a known history of the character (not much), some supposition about the character, and even a full copy of one of the complete Green Turtle comics.  It is really fascinating to see this book after reading about the book, and after reading the up-dated version.
Looking for a good book?  The Shadow Hero is a MUST for any comics fan, superhero fan, or student of pop culture.
* * * * * *
The Shadow Hero
author: Gene Yuen Yang
artist: Sonny Yiew
publisher: First Second
ISBN: 1596436972
paperback, 176 pages