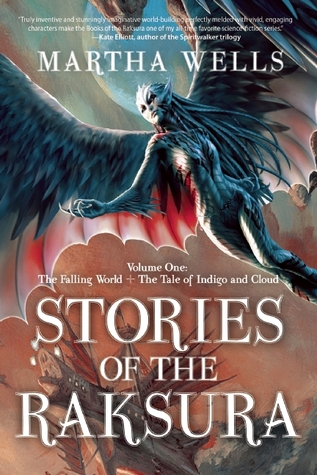 If you are already a fan of the science fiction and/or fantasy genres, then you are probably well aware that there is a wide variety of styles and sub-genres within the framework of science fiction/fantasy and we all have our own favorites and those styles which we just don't take to.  I was not familiar with the works of Martha Wells (other than a Star Wars book that I wasn't much enamored with and a young adult book in which I also had mixed feelings).  But based on strong ratings and a name that I recognized, I decided to give this a try.
Unfortunately, I really didn't enjoy it.
I've never been particularly fond of a certain set of very popular science fiction/fantasy writers who are legends in the field.  (I don't really want to go into who they are.)  I consider their writing to be of the 'romantic/naturalism' vein – romantic in the sense of the romanticism period of literature.  This style has bored me and the characters do little to keep my attention.  I consider Martha Wells' writing to fall into this romantic/naturalism category.  There's nothing wrong with this … it's just not for me.
It doesn't help that these novellas and stories are a part of a universe created by Wells, but with which I am not familiar.  Since finishing the book and preparing this review, I've looked at some of the Goodreads five-star reviews to see what I was missing.  Mostly, it seems, I am missing history.
Typically, I will not look into a book or author when requesting a review copy.  I read the publisher's description and select accordingly.  If the publisher doesn't wish to make it clear that a book is part of a larger universe or series, then I assume it stands on its own.  That may be true here, but I do believe that already being a fan of the Raksura book by Martha Wells would be particularly helpful.
This book featured the following stories:
"The Tale of Indigo and Cloud" – a long story about how two people met.  It is clearly a history story, giving some background information about a world.
"The Forest Boy" – a story of a young boy whose family was murdered and he searches for a family to live with.  Again, this definitely has the feel of a history story.  I gather that the boy, Tren, has adventures in another book and this is giving the reader some insight to him.
"Adaptation" – a character, Chime,  undergoes a physical change – getting wings, but the sacrifices he has to make in order to get the wings is daunting for him.  Of the stories included, this was perhaps my favorite.
"The Falling World" – One of the rulers of a 'court' goes missing after a trade deal with another court. I felt lost here, not really understanding the politics or sociology of this world.
I wish I could like this.  I wish I could rate this highly, like hundreds of others who have read it, but I can't.  I admit that this just isn't a style that I enjoy, which is part of the issue, but the other part is that this is so closely tied to a series that the author has carefully built, doesn't help.
Looking for a good book?  If you are a fan of Martha Wells' "Raksura" stories, you'll likely really enjoy this, but for the rest of us, this is a yawner.
I received a digital copy of this book from the publisher, through Edelweiss, in exchange for an honest review.
* * * * * *
Stories of the Raksura, Volume 1: The Falling World & The Tale of Indigo and Cloud
author: Martha Wells
series: The Books of the Raksura 0.1; 0.2; 0.3; 3.6
publisher: Night Shade Books
ISBN: 1597805351
paperback, 206 pages