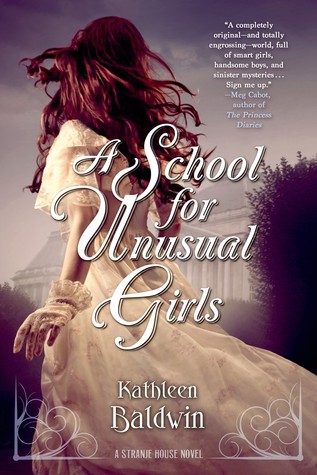 I've read a few YA books recently that a about special, talented girls and their being sent away to develop their skills and knowledge.  None has stated so succinctly the premise as this books title, A School for Unusual Girls (by Kathleen Baldwin).  Given the number of books I've read (and I don't typically seek these out) and the number I've seen on the shelves at local stores, there is clearly a market out there for teen-girl romance-adventure fiction.  And of the books I've read, this one stands out above the rest.
The book does follow a bit of a formulaic pattern … a young girl who is scientifically curious and brilliant, despite of an era when girls should be learning charm and grace instead of math and science, is entirely focused on developing a new, better formula for invisible ink.  Her experiments have caused an explosion and fire in her family's homestead and the family has shipped her off to Stranje House, a home for troubled girls.
But Stranje House isn't quite what it seems, and the young girl, Georgiana Fitzwilliam, meets a handsome young man who is interested in her experiments.  She'd never shown interest in men before, and she's no expectations that any man would be interested in her, but some strange stirrings within her have her wondering what's happening.
This is a pretty straightforward teen romance with a nice mystery/history/thriller story background.  Baldwin's writing is crisp and despite, as I say, formulaic story points, it is an engaging read.
It is too bad, however, that a book that is targeted toward young girls, specifically those who might feel out of place in society because of their interests or their expectations of their appearance, that this book still relies on the male romantic figure(s) to help the girls succeed.
I was definitely captivated enough to desire the next book.
Looking for a good book?  A School for Unusual Girls by Kathleen Baldwin is a strong, YA romance/adventure book that should be read with delight for those interested in the genre.
I received an electronic copy of the book from the publisher, through Netgalley, in exchange for an honest review.
* * * * * *
A School for Unusual Girls
author: Kathleen Baldwin
series: Stranje House #1
publisher: Tor Teen
ISBN: 0765376008
hardcover, 352 pages