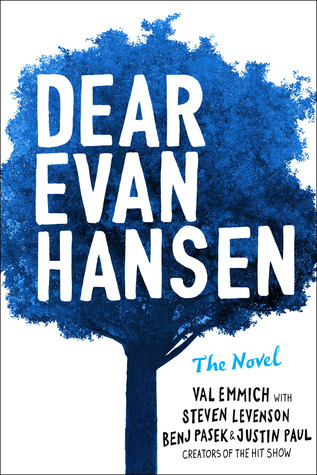 I have heard of Dear Even Hansen, the Broadway musical, and I know it's been very successful, but beyond that I was pretty clueless. When I saw that there was an ARC available of a book, based on the hit show, I put in my request right away.
Dear Evan Hansen is a Young Adult novel and as such, hits all the right notes. It is easy to see why this is such a popular show and likely to be a very popular book – especially in the YA crowd.
Evan Hansen is a high school teenager with a lot of struggles. His parents are divorced and he lives with his mother who works often and takes night classes in order to get a better job to support herself and her son. Evan is in therapy and one of the things he has to do is write letters to himself to bolster or comment on his day.  Each letter begins, "Dear Evan Hansen."
These letters, of course are private memos, like diary or journal entries, but in letter form.  On one particular day, the school bully, Connor Murphy, grabs a letter from Evan's hands. In addition to mocking Evan for the letter, Connor wants to know why Evan is writing about his (Connor's) sister.  Telling Connor that he has a crush on her would be even more embarrassing for Evan.  Connor walks off, taking the letter with him.
Connor doesn't show up in school for days after the incident, and when Evan is called to the principal's office, he's worried about having to confess to the letter and his crush on Zoe. Instead, Evan is informed that Connor took his own life and one of the things found with him was a letter he wrote to Evan.  No one realized that Connor and Evan were such friends.  And so begins a series of lies from Evan, to Connor's parents, to Zoe, to his own mother, mostly with good intentions.
Despite having been a bully and a loner, Connor's legacy builds and grows as a misunderstood young man with a secret life as a kind heart.  A truth that doesn't come out, because of Evan's lies, is that Connor did indeed have a secret relationship with another young man.
The writing of this book is smooth and very easily readable. We move from chapter to chapter so nicely that it is easy to get caught up and keep reading longer than you intend to.
Evan is seriously flawed, but what teenager isn't?  It's all about finding their own way, often with mistakes.  It is what they learn from those mistakes that determine the adult they will become.  In a YA novel like this, the mistakes are on a grand scale and yet everything feels plausible.
There was a point, perhaps two-thirds of the way through, that I started to worry about where this was headed and I absolutely did not want to go there.  Had it gone in the direction I thought it would take – and a direction that so many YA novels WOULD have gone – I would have given this a very low rating.  As it is, it's tough to give a high score to a book in which a person lies so much and so often, but it's what Evan does to redeem himself that provides the strong backbone for this story.
Looking for a good book? Dear Evan Hansen by Val Emmich is a strong, wonderful YA book that should be enjoyed by fans of the genre.
I received a digital copy of this book from the publisher, through Netgalley, in exchange for an honest review.
* * * * * *
Dear Evan Hansen
author: Val Emmich, with Steven Levinson, Benj Pasek & Justin Paul
publisher: Poppy
ISBN: 0316420239
hardcover, 368 pages