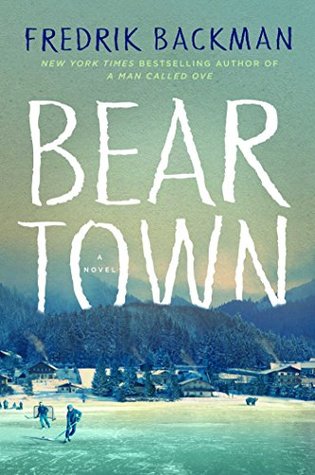 Based on the previous works of Fredrik Backman that I've read, I've come to think of him as one of the freshest, somber voices in literature that we've seen in a long time.  That opinion hasn't changed much, but with Beartown, one of the newest to be translated and published in the U.S., he begins to look a bit formulaic as well.
Beartown tells the story of a small, rural town out in the woods and away from the rush and hustle of civilization.  Beartown is in northern Sweden, but as is typical with Backman it's really an 'anytown'.
Hockey is the town sport – more than a sport, really, it's a way of life where the activity teaches the boys camaraderie and the competitive spirit and where those who are now older look at the sport and are reminded of their younger days.  Beartown is also the second-best.  A championship in hockey has been a dream but the residents are constantly reminded that they are second best – not up to the fast, aggressive, and so-much-better city residents. But once in a while a natural talent comes along and Beartown has that now and their dreams of a hockey championship are renewed.
But with the winnings and the expectations of the team moving onward, a voice rises up that could bring the expected championship to a sudden halt.  A teenage girl calls out against one of the boys for raping her at a celebration party. In a town that pins all its hopes on a hockey championship, one girl's trauma is a source of irritation for many.
What I like about Backman is that he has his finger on the pulse of small towns.  It doesn't seem to matter – if someone was born and raised and lived all their life in a small town in Sweden or a small town in Minnesota, the attachment to an activity stays in the community – especially if the residents don't 'get out.'
But here the comparison ends. Instead of a typical small town, we get the stereotypical assortment of characters. Just the right mix to create the stereotypical collection of grumps and know-it-alls and teens discovering their sexual identity.  What you see on the surface pretty much is who they are.  Unlike some of Backman's other books, where we get a little deeper into the story and discover the layers of a character, here the town itself is the character but there aren't many layers to it.
I will also admit that I was uncomfortable with the rape sequence in the book, and more so with the accusations against the girl from the community.  I recognize that this is often the treatment victims receive, but that doesn't mean I need to be okay with it. Because I was uncomfortable, it made it more difficult for me to stay in and 'enjoy' the story.
Because it's Backman, we know he's going to leave us with a ray of hope, and that's pretty much all I could hang onto as I went further in.
I'll read the other volumes in this series because I generally like Backman, but I hope he gets out of the comfort zone of stock characters here.
Looking for a good book? Beartown by Fredrik Backman takes a look at small town pride and jealousy and hatred and gets it close to 'right' but doesn't go out of the way to create new or real characters for this one.
I received a digital copy of this book from the publisher, through Netgalley, in exchange for an honest review.
* * * * * *
Beartown
author: Fredrik Backman
series: Björnstad #1
publisher: Atria Books
ISBN: 1501160761
hardcover, 418 pages