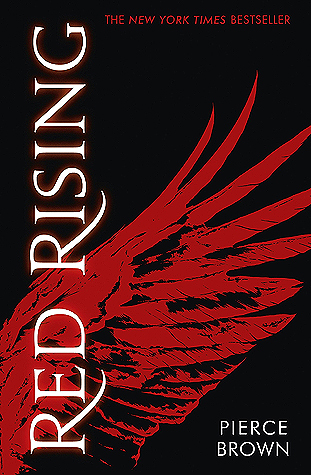 One of the problems with doing book reviews as much and as often as I do, is that I often have to pick and choose which of the plethora of books I will read next.  And even with five books a week, I can't get to them all.  Not reading Pierce Brown's Red Rising until now is one of my biggest regrets.
A young man, Darrow, from the lower caste system – born into slave labor, underground on Mars – challenges the system when his young wife is sentenced to death.  Because of his challenge, he is forced to leave the life he knows or be killed himself and just as he is preparing to die, he is recruited to infiltrate the higher levels and undergoes training and physical changes to become a "Gold."
But Darrow learns that life at the top has its own challenges and it's a dog-eat-dog world, even for the Golds.  Fortunately, his work as a slave Red has given Darrow strength and agility that is unknown to the Golds and Darrow rises to some prominence through a series of games designed to weed out the weaker members.  The games are run by some demi-gods, and overseen by Directors, and Darrow learns that the rules are different for the privileged – even among the highest ranks.
Darrow strives to become one of the upper echelon in order to take down the caste system from the inside.
The book plays with some themes that are going to be extremely familiar to readers of YA fantasy.  The Hunger Games, Divergent, even Ender's War, are recognizable in this story, but author Brown blends them together to create a unique adventure story.
I was hooked very early on – the opening sequence, with Darrow still simply a 'Red,' is powerful and depressing beginning.  The games that take place later are complex and exciting and we often lose the sense that they are 'games.'  In fact, this might be the biggest complaint about the book as well … we spend so much time focused on the activities and action that as we approached the end of the volume and were reminded that Darrow's goal is fairly simple and singular, but not (necessarily) what he was actively working on for the previous 300 pages, it takes us aback.
Brown does a really tremendous job of getting the reader to root for Darrow.  He is tough and he is likable and even though he becomes more than just a little bit of an ass as the competition drives him to be the best, we're still behind him and excited for each success.  The 'bad guys' are numerous and become fairly interchangeable – Darrow is never lacking for someone to conquer.
This was a captivating read, and even though it draws on a number of other popular books, Pierce Brown creates his own universe and thrilling start to a new series.
Looking for a good book?  Red Rising by Pierce Brown is a dark, thrilling sci-fi adventure book that will draw you in and have you anxiously turning pages to see what happens next.
I received a digital copy of this book from the publisher, through Netgalley, in exchange for an honest review.
* * * * * *
Red Rising
author: Pierce Brown
series: Red Rising #1
publisher: Del Rey
ISBN: 0345539788
hardcover, 382 pages