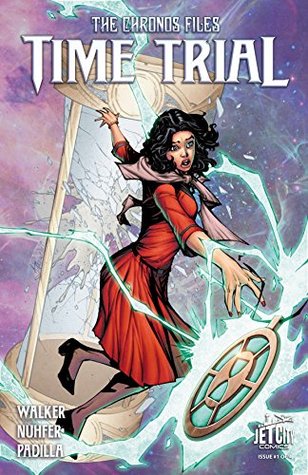 This is actually a 32 page comic book and not a full graphic novel, but it is a great teaser to a graphic novel to come!
"Best-selling" author Rysa Walker (whom I've never heard of) is building an exciting series, based on this first issue.
Nineteen year old Clio Dunne is the daughter of time-traveling parents.  Like most parents, they are learning to 'let go' and let their daughter live her own life and experience the world on her own.  But also like most parents, they want to keep her safe and be able to get in touch at a moment's notice.  This is a little more challenging since Clio is moving not just to another city, but another time.
Stepping back to Chicago of 1931, Clio uses her talent at drawing to become a sketch artist for a newspaper covering the Al Capone trial.  It seems dangerous work since Capone's henchmen might put the strong-arm on anyone not portraying Capone in a good light, but the real danger that Clio faces is from another time-traveler, a former friend of her parents' who forces her to do his bidding.
There's a lot going on in these thirty-two pages!  Most books would be content to use the pages to set up the characters and the story, which Walker and script writer Heather Nuhfer do, but Nuhfer also builds an exciting, action-packed story in addition to the set-up, which definitely makes me want to read more.
The art by Agustin Padilla is strong.  This is good, solid, comic book art.  I only wish the two major comic publishers could get artists like this, but this is one of the reasons I'm losing interest in the big two publishers and enjoying work from the smaller, indy presses.
My only complaint here is that this is only the first part of a much longer story.  Thirty-two pages is a tease.
Looking for a good book?  Time Trial #1 is a comic book that is extremely well done and promises an exciting series.
I received a digital copy of this book from the publisher, through Netgalley, in exchange for an honest review.
* * * * * *
Time Trial #1
authors: Rhysa Walker and Heather Nuhfer
artist: Agustin Padilla
series: The CHONOS Files #1
publisher: Jet City Comics
ASIN: B01D1LNYY8
kindle edition, 33 pages