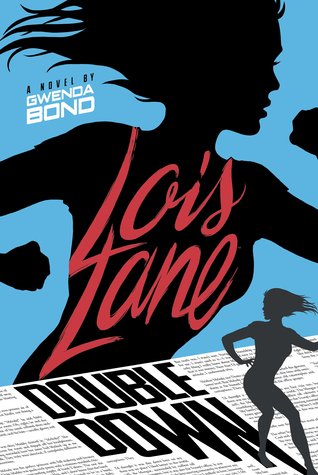 Gwenda Bond is the author of a Lois Lane series of books of which, Double Down is book #2.  I was not aware that this was a series when I requested the review copy, but I don't think it's necessarily vital to have read the first book before reading this.  Lois Lane is already a known character from her years of appearances in the Superman comics.  This series, targeted toward the middle school market (and the middle school girls, more specifically), features a teen-aged Lois.
Lois has just moved to Metropolis and is finally starting to make friends at school and at work.  She has a new job working for The Daily Scoop as a reporter.  She has a natural talent for finding a story.  While interviewing an artist creating a mural in Suicide Slum, a bigger story falls into her lap.  Her friend Maddie's twin sister, Melody, appears and is shaking with some sort of seizure.  Is there a connection to the fact that Maddie and Melody's father, the former mayor of Metropolis has recently been released from jail?
At home, Lois has to navigate the waters of family relationships.  Her relationship with her sister Lucy is good, but her relationship with her father is contentious at best.  But the more interesting relationship is with the face-less, on-line friend "SmallvilleGuy."  Hmmm.  I wonder who that will be?
Lois shares her investigative concerns with SmallvilleGuy and they seem to share a desire to do the right thing and to find out who is responsible for committing crimes.
This is my third Gwenda Bond book.  I really liked her  Girl on a Wire, but I found The Woken Gods to be dry and tedious.  Unfortunately, I thought that Double Down fell more to the dry and tedious category.
I was excited to see a book that featured a strong female protagonist, one already familiar to many, that our young readers could identify with.  The mystery is strong and certainly worthy of a Lois Lane investigation.  And the science-fiction-ness in the story (I don't want to reveal too much) won't come as too much of a shock for young readers who are growing up in a world full of vampires and zombies and shape-shifters!
But in creating this world, Bond maybe does it too well.  The real world isn't full of extreme highs and lows and edge-of-your-seat anticipation, and neither is this book.  What I'm finding in Bond's writing is a lack of building.  The characters tend to move from one moment to the next with an even temperament.  I never felt Lois was truly anxious or nervous or excited.  There are discoveries made.  There is great danger – potential death.  There is the possibility of love and loss.  It's all here, but reading it, I never felt that I got to actually experience it, which is what I want to do when I read a book.  I should be involved.  I should feel it personally because I'm drawn to and care about the characters.  But I'm not, and I don't.
Lois Lane can do better.
Looking for a good book?  There is a lot happening in this story of Lois Lane, girl reporter, Double Down, but author Gwenda Bond tells it pretty straight forward and we don't quite get the excitement that drives Lois.
I received a digital copy of this book from the publisher, through Netgalley, in exchange for an honest review.
* * * * * *
Double Down
author: Gwenda Bond
series: Lois Lane #2
publisher: Switch Press
ISBN: 1630790389
hardcover, 304 pages