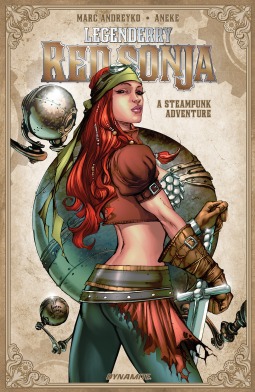 I have read quite a few great Red Sonja titles lately, and like many fans of the genre and fans of Robert E. Howard, I've always liked the character.  And so I had no hesitation to request this additional title – Legenderry: Red Sonja.  Now, what I need to disclose is that while I enjoy reading comics and graphic novels, and there was a time when I read a lot of them and was very into knowing everything I could about the market, those days are mostly passed for me. I still have an appreciation for the medium, but I in no way stay current on who's publishing what, where, when or why.  So how was I to know that this isn't a 'traditional' Sonja story or that "Legenderry" was in fact a reference to a popular, previously published title that was steampunk.  Or that like the Legenderry predecessor, this book was steampunk.  Yes.  Steampunk.  The bikini-chain-mail-wearing swords-woman was placed in an alternate, steampunk world.
I didn't understand this.  I didn't understand why it was being done.  I was looking for a good Red Sonja story and all I could think of was that this was totally unnecessary.  Taking Sonja out of her element dramatically changes the character.  She's a creation of her environment.  Put her in a new environment and she's a very different character.  After each story I asked why anyone bothered to make this 'Red Sonja' – this was a different individual with red hair and the hint of chain mail.
What I am getting at (if I haven't been clear) is: Why was this Red Sonja?  The way this read, it was any kick-ass female fighter and they named her Red Sonja to try to draw in a few suckers, like myself.  I don't appreciate being taken for a sucker.
In the story, Sonja interacts with Victor von Frankenstein and Captain Nemo, bringing two other literary characters into the mix.
If I could get over the fact that it was totally unnecessary to make the character Red Sonja (which I clearly can't), then the story itself was very nice.  There were some interesting twist (primarily surround Frankenstein) and the art was decent.
For a 'steampunk' story I don't feel it really captured the steampunk aura.  It was, however, a nice adventure story that takes place about the turn of the century.
Looking for a good book?  Legenderry: Red Sonja is a steampunk themed adventure story that doesn't tale advantage of the bad-ass swordswoman aspect of the character.  The art is nice, though.
I received a digital copy of this book from the publisher, through Netgalley, in exchange for an honest review.
* * * * * *
Legenderry: Red Sonja
author: Marc Andreyko
artists: Aneke and Juanan Ramirez
publisher: Dynamic Forces
ISBN: 160690782
paperback, 128 pages