THROWBACK THURSDAY: REVIEWING A REISSUE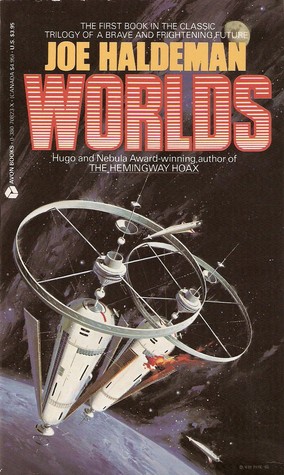 There are a few authors that I will consistently read because they are reliable and dependable.  Joe Haldeman has always been one of those authors, for me.  Yet for all the works of his that I've read, I've somehow missed this book (and this trilogy).
This is, in my opinion, not one of Haldeman's finest.
There are forty-one satellites, called Worlds, orbiting Earth.  The Worlds export resources to the Earth and sometimes welcome tourists from the planet.  But it seems rare for the World citizens to head planet-side.  Until Marianne O'Hara participates in a year-long cultural exchange.  Marianne explore the world, not unlike Alice in a metropolitan wonderland, until there is a fast-paced action/adventure sequence to wrap things up.
This book is all about world-building (or worlds-building), character establishing, and author commentary on politics and social mores.  This book is not about story or plot.  And that makes for a difficult read.
I was quite interested in this story as it was being established.  The worlds were unique and fascinating and I actually wanted to spend more time there.  And Marianne's initial journey showed promise.  And when Marianne finds herself caught up in a revolution, the story is wild and exciting.
Unfortunately, the middle portion of the book, with Marianne exploring the planet, feels like Haldeman's views of political and social sciences … of the era in which this written and where he feared we were headed.  This is fine if it can be done naturally, as part of the story, but this feels completely separate from the plot.  If this section were missing, it wouldn't affect the story.
I'm glad to have read this, but I wouldn't recommend this except to those who are already fans of Haldeman's work.
Looking for a good book?  Worlds, by Joe Haldeman, is the first book in a trilogy that shows great potential, but is an uneven story.
I received a digital copy of this book from the publisher , through Netgalley, in exchange for an honest review.
* * * * * *
Worlds
author: Joe Haldeman
series: Worlds #1
publisher: Open Road Media Sci-Fi & Fantasy
ASIN: B00PI184NQ
Kindle Edition, 262 pages