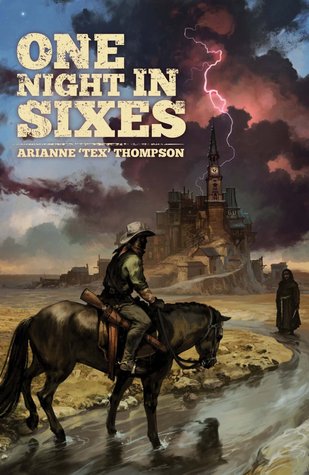 I really wanted to read this book.  I had downloaded an electronic copy through Netgalley, but the Kindle it was on died.  Then I saw that there was a giveaway for the book on Goodreads and I put in my request and received a copy (nicely autographed) in the mail.  As someone who enjoys both westerns and sci-fi, I thought that this blending of the genres was right up my alley.  And I might have liked it if I could read it.  (I'll explain in a moment.)
This is a story of Appaloosa Elim and Sil Halfwick.  They work on a ranch and are bringing a herd of horses to sell in town.  When the horses don't sell, rather than return to their boss and explain it, they decide to bring the horses to the 'forbidden territory,' to the town of Sixes.  Little is known of Sixes except the belief that it's not safe to stay in Sixes after dark.  When the sun goes down, gunslingers, shapeshifters, and ancient gods come out to play.  Elim and Sil have some mighty tough decisions to make about their visit.
This is an interesting idea and there is a lot of great potential here, but the story gets lost in the circumstances of the world.
First: what is this world?  Is this future Earth? Alternate Earth? Another planet altogether?  In some ways, this doesn't really matter.  It's science fiction, so as readers we accept some unusual things.  But in some ways, it does matter.  Is a horse really a horse, as we know it?  If yes, then we are someone tied to our current earth/time.  If no, why is it called a horse?  I mean … there are a LOT of different words here so this suggests it's intentional.
Second: the unusual words.  Yes…there is a glossary (in the back of the book), but this isn't a textbook to be studied and dissected, this is a work of fiction, to be read and enjoyed.  I don't find it enjoyable to have to constantly stop my reading to look up a made-up word.  And the more difficult the word is to read and/or pronounce, the slower the reading.  a'Pue; Pue'Va; absquatulate; ashet; atodak; ihi'ghiva; marrouak; skault (which is 'a pejorative term for Afriti'); Aso'ta Marhuk; Atali'Krah; Huitsak… I could go on, but I think I make my point.
Third: the characters.   Given how much time is spent setting this up, I don't feel that I ever really understand who Elim or Sil are.  I definitely can't say that I like them, though I don't dislike them, either.  I just don't know them.  Yet they are the protagonists who drive the story (literally).  Whether I can 'get into' or care about a leading character goes a long way to my liking or disliking a book.
I wanted so badly to like this book.  Unfortunately, this was a struggle to read, and the struggle doesn't pay off.
Looking for a good book?  One Night in Sixes, by Arianne 'Tex' Thompson, is a sci-fi/western mash-up with some massive world-building, but it's difficult to read and the characters don't live up to the effort it takes to read this.
I received a digital copy of this book through Netgalley and a paperback through Goodreads in exchange for an honest review.
* * * * * *
One Night in Sixes
author: Arianne 'Tex' Thompson
series: Children of the Drought #1
publisher: Solaris
ISBN: 1781082383
paperback, 464 pages