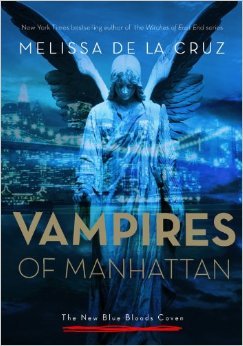 Because in the past I have requested ARC's of books that are in the middle or the end of a series, I've taken care to try not to jump in the middle of a series, but I'm very willing to test the waters of a new series, so when I saw that this was Book 1 in "The New Blue Bloods Coven" I thought I would check out this new series.  I've enjoyed reading vampires in literature since reading Fred Saberhagen's Vlad Tepes books in the late 1970's/early 1980's.  What I didn't realize is that while this is the first in a series, it is run on the shirt-tails of a previous series, The Blue Bloods, which appears to have had about seven books ("about" because there were some novellas in the series).  That there is a history in this story, and a world previously established, is quite apparent.  That I didn't know it sometimes became frustrating.
The book has a couple of different view points (which was a bit confusing for a while).  The story seems to revolve around a human-turned-vampire named Oliver who is the head of a coven.  But on the eve of a major ball, celebrating the re-unification of the coven, a human is murdered and it appears that a vampire is the likely killer.  Oliver stands out as a likely suspect and the vampire secret police are out to bring him down (a vampire who kills another vampire – called a Silver Blood – can be executed).
My biggest issue with the book is that there are some obvious relationships that have been established previously.  I'd like to know more about the battle with Lucifer that the vampires were a part of. I'd like to know more about the relationship Oliver has with both the humans and the vampires that he was a willing convert.  And his human lover/pet?
Author Melissa de la Cruz does a nice job, overall.  The story moves along crisply and the mood and tone is very appropriate for a vampire novel. The inner workings of the coven, and the relationships between the characters is intricate, but it relies heavily on relationships established over a course of many other books.  I would be interested in reading more, though I think I'm more interested in reading the previous books than the next ones in this series.
Looking for a good book?  While Vampires of Manhattan, by Melissa de la Cruz, is the first in a series, it relies on knowledge of a previous series to truly understand all the goings-on.  Fans of the Blue Bloods series should enjoy this decade-later series.  New readers may want to get caught up, first.
I received a digital copy of this book from the publisher, through Netgalley, in exchange for an honest review.
* * * * * *
Vampires of Manhattan
author: Melissa de la Cruz
series: The New Blue Bloods Coven #1
publisher: Hyperion Books
ISBN: 1401324711
hardcover, 240 pages