THROWBACK THURSDAY: REVIEWING A BOOK FROM MY SHELF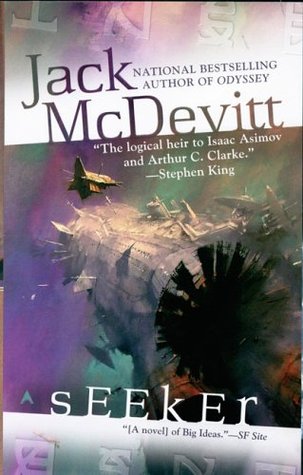 I've been familiar with the name of author Jack McDevitt, but I'd never read any of his works.  I can't say how or when this book found its way in to my home, but it did and I chose to read it, and boy … I sure am glad I did!
This is the third book in the Alex Benedict series and I've already ordered books one and two because this really sparked my interest.
Alex Benedict and his assistant/partner Chase Kolpath are antiques dealers in our distant future.  When they come across a coffee cup with some sort of design that turns out to be writing.  It takes them a while to decipher the writing, but they finally determine that it reads "Seeker" in an older human language.  And with that they begin a thrilling sci-fi mystery that spans 9000 years and connects the, with the only other sentient life ever encountered in the universe.
The Seeker was a ship that was transporting a large group of people from an over-crowded Earth for an earth-like planet.  The coordinates of that planet was never divulged (only a handful of the transport leaders knew about it) and it was expected that the pioneers would come back to share their stories and to bring more of humanity to their paradise.  But no word or sign of the group was ever heard or seen.  Until Alex Benedict recovers the cup that once belonged on the Seeker.
Archaeology and antiques.  In the future.  What a great concept.  And McDevitt includes some pretty solid science.  But it is the mystery that keeps us reading.  Alex and Chase are going to be looking for a colony that has been missing for 9000 years.  Will they find it?  And if so will there be descendants of the colony left or did they not return because they failed to find their planet?  Or because …?  There are a myriad of questions, and McDevitt brings each one to the reader.
I was amazed at the depth of the mystery and loved the action (someone is trying to keep Alex and Chase from finding the Seeker [but who would care, after 9000 years!?] and is willing to kill to do so) and the science.  This was an incredibly well-rounded, wonderful science fiction book.
Looking for a good book?  Seeker, by Jack McDevitt is science fiction, mystery, and thriller all rolled in to one and it's brilliant.
* * * * * *
Seeker
author: Jack McDevitt
series: Alex Benedict #3
publisher: Ace
ISBN: 0441013759
paperback, 373 pages