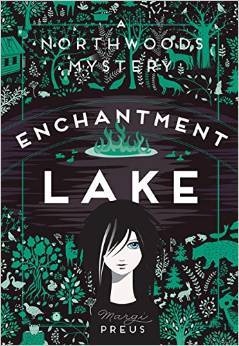 The hardest reviews to write are for those books that do not stand out as either particularly bad or tremendously good.  Enchantment Lake, by Margi Preus is a difficult book to assess.
By all accounts, this book should be perfect for me.  It's a YA book, which I tend to love.  It's a mystery, which I've really become fascinated with.  The central character comes from New York and is an actor, and as a theatre professional who has worked in New York, I have a fondness for these sorts of characters.  And the primary setting is the Northwoods of Minnesota … a vacation stomping ground for me.  So what's not to like, right?
I started off completely pulled in by the story.  Seventeen year old Francie gets a strange call from her aunts Astrid and Jeanette and Francie believes that the two of them are in mortal danger.  Leaving New York, and a promising audition behind, Francie heads to Minnesota to check on her aunts (her only family).  Once at the remote northern lake, Francie discovers that many of Astrid and Jeanette's neighbors have been dying in alarming numbers, most by seemingly unrelated accidents, but which has Francie growing suspicious.  This aspect alone really had me suspend my disbelief.  No one else seemed to find the coincidence of all the deaths at all strange.
But the mystery hooked me and some of Preus' early descriptions of life on a lake in the north woods really spoke to me.
The boat went so fast it squeezed tears from Francie's eyes and whipped them behind her.
Anyone who's been on a small boat can immediately identify with this, and for those who haven't Preus describes it perfectly.
Francie stood more a moment listening to the boat's wake wash against the shore.  It had always struck her as a lonely sound and seemed even lonelier now that she was by herself.
Again, this captures the feeling of being at the water's edge as a boat speeds away.  Clearly Preus has experienced this sensation.  This early sensation of a mystery and wonderful descriptions of the north woods had me excited to dig in to the book.  Unfortunately, the excitement waned.
There seemed to be no growth to any of the characters, and the mystery dragged on without movement.  I felt no build, no sense of slowly uncovering pieces to the mystery that might help the reader to come to the conclusions at the same time as our protagonist.  Instead, there were some additional mysteries established (what happened to Francie's parents?) and the ending came about less as a result of investigation and more a sense of confession.
The teenage romance within was nicely handled, though I did feel that the Minnesota Francie was probably not really well prepared to be a New York actor Francie.  But because this book is targeted to those 17-year-old readers, this was probably just fine.
Some nice descriptive writing and a nice, initial mystery, followed by lack of build and flat characters has this as a really average book for me.
Looking for a good book?  Enchantment Lake by Margi Preus is a mystery set in northern Minnesota that might appeal to bookish teen girls but will have little broader appeal.
I received a digital copy of this book from the publisher, through Netgalley, in exchange for an honest review.
* * * * * *
Enchantment Lake: A Northwoods Mystery
author: Margi Preus
publisher: University of Minnesota Press
ISBN: 0816683026
hardcover, 200 pages