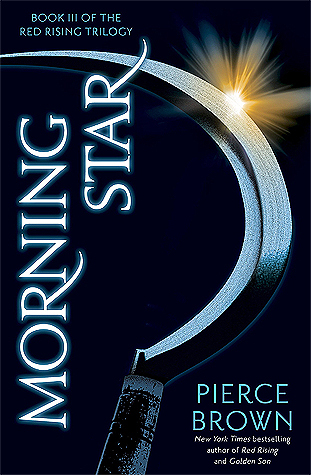 When I noticed that I the next Red Rising Saga book in my ARC queue and that I was due to read it soon so I thought I'd better get caught up quickly.
Here, our hero Darrow has been captured by The Jackal and submitted to torture. But not killing Darrow straightaway could come back and haunt his enemies as he still manages to pull his allies together and leads a revolution to overthrow the Empress and free the Reds (a lower class of people in the Mars caste system).
Author Pierce Brown has a unique writing voice and applies it well with this series.  There is a strong YA attribute to the writing – that constant sense of pathos. But unlike so many YA books that I've read, here that pathos is mixed with a strong sense of determination to overcome the situation instead of resignation.  In fact it is Darrow's determination that provides the drive and action of this book.  In addition to his drive, his is also motivational and is deft at drawing people to him and fitting in with other groups of people (which is how he's managed to infiltrate a different levels).
As with the first two books in the series, this is packed with action. However I did feel more distraction here: myself and Darrow. I wasn't pulled into the story and held there all the way through as I was with the previous volumes.
Even though this is the third volume I get more of a sense of set-up than conclusion. The ending, in particular, leads us to the next volume much more than it does close the book – which is something I don't typically care for.
Fans of the series will of course want to read this and enjoy this next step on the Red Rising Saga, but it doesn't hold quite as much pure power and stands more as a gateway to whatever happens next.
Looking for a good book? Morning Star by Pierce Brown is the third book in the Red Rising Sag and should be treated as such … a book that doesn't quite stand on its own, but one that might be enjoyed if you've read the first two and plan to read the next.
I borrowed a digital copy of this book from my local library.
* * * * * *
Morning Star
author: Pierce Brown
series: Red Rising Saga #3
publisher: Del Rey
ISBN: 0345539842
hardcover, 524 pages