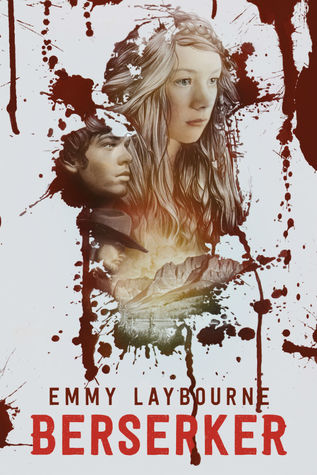 Imagine reading a Willa Cather novel with occasional flashes of raw violence like a Quentin Tarantino movie, and you get a feel for Emmy Laybourne's Berserker.
Siblings Knut, Stieg, and Hanne Hemstad are a dying breed.  They've been cursed with a gift – to be from a family with ancient powers. Hanne is a Berserker. She can sense when a loved one is in trouble, from a long way away, and she flies into an uncontrollable, murderous rage. This is not something she can control … it's simply who she is. But it's gotten her into trouble at home in Norway and so the teens flee their native land in search of an uncle who might be able to help them with their abilities.  But he's somewhere in the American west. It's the 1800's and the country is a vast and dangerous space. Fortunately they have each other – a bond that is stronger than any other. But how many will have to die because of them?
I found the concept behind this novel really intriguing. This really sounded like a novel that I would absolutely enjoy … Norse mythology, American western, some historical fiction.  If someone asked what kind of book I'd like to read, this could well be what I describe.
But the execution of this book is just dull. So little actually happens here, except for in brief spurts. The ending (the last 6% of the book, according to my Kindle) was exciting and terrifying, but it was so little, so late.
Mostly we are treated to 300 pages of a young girl moaning about herself and her uncontrolled Berserker-ness, with a little bit of uplifting chatter about family. And 50 pages of action that almost always involves someone being brutally hurt.
I really could not connect with any of the characters. I did not buy in to their frustrations and never believed in their special abilities or that it was as detrimental as they seemed to think. Instead I just saw teens with the need to feel sorry for themselves.
I recognize that this high-pathos attitude is a common trait in a lot of YA literature, and while I don't generally care for it, I can usually find a story amid the pathos that is worth following or rooting for.  Not so in this case. This book just felt like a huge missed opportunity.
Looking for a good book? Berserker by Emmy Laybourne tries to be an exciting mash-up of Norse mythology and the old American west for YA audiences but ends up being not much of any of it.
I received a digital copy of this book from the publisher, through Netgalley, in exchange for an honest review.
* * * * * *
Berserker
author: Emmy Laybourne
publisher: Feiwel Friends
ISBN: 1250055202
hardcover, 352 pages