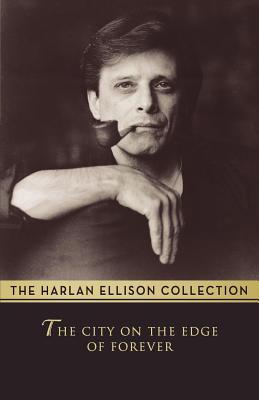 If you don't know Harlan Ellison then you should correct that immediately by going out and reading some of his work.  He's an under-recognized, under-appreciated author – though certainly not for a lack of trying, as Harlan was often pretty vocal about his talent.
One of Ellison's biggest claim to fame was for writing the Star Trek episode "City on the Edge of Forever" – long a fan favorite and one of the few award-winning episodes. However… big sigh…
Ellison long claimed that the powers-that-be at Star Trek not only ruined his original script by having so many different people rewrite it, but they then threw salt into the wound by claiming anywhere and everywhere that Ellison made some major mistakes … claims that were outright lies.
Anyone that has followed Ellison even slightly knows that he was very vocal and aggressive when fighting claims and crimes against himself.  This book was his last word (hopefully?) on the subject.  Here he lays out every claim against what he had originally written and he argues those claims, point by point.  Specifically he is arguing with the claims of Star Trek creator Gene Roddenberry, who often spoke about the episode and Ellison's problematic script at Star Trek conventions to throngs of fans who hung on every Roddenberry word.
Ellison often points out when and where claims were voiced and just as often chastises the fans he claims believed every word of Roddenberry because of how the fans glorified or even deified him.
And then Ellison shares the original treatment and the original script (that he, Ellison, sent to the Writers Guild Of America where it won the award for Best Episodic Drama on Television for the year). And then another version of the script, and finally a number of Star Trek-related personalities that Ellison enlisted to comment on his behalf in regards to the script. People such as Dorthy Fontana (the Star Trek story editor who contributed to the rewrites), David Gerrold – famed for the Trouble With Tribbles Star Trek episode(s), Walter (Chekov) Koenig, Leonard (Spock) Nimoy, DeForest (McCoy) Kelley, and George (Sulu) Takei.
If you are a fan of Star Trek and haven't already read the story of, arguably, the most popular episode, then you really should pick this up and give it a read.
For me, this was a refresher.  I've read the original script a few different times but I had forgotten the vitriol with which Ellison spews his case. It's sad, really, that he harbored a grudge for so long, and with such fury.  Though he complains bitterly of the Star Trek fans who believed Roddenberry, he clearly needs their approval.  He won an award for the original script. He won a lawsuit against Paramount in regards to the lies said about him in regards to the script.  And yet he still clearly has such anger and wasn't ready to rest until the last of those driveling fans would acknowledge that HE was RIGHT.
As a teenager, I loved Ellison's anger as much as I loved his command of language and storytelling ability.  Today, I'm just sad that he never quite got over this moment in history.
As a side note … I was reading this and one other Harlan Ellison book (review already published) when Harlan Ellison passed away.  While it is common for me to be reading more than one book at a time, it is rare for me to read more than one by the same author, so there was a strange sort of kismet in the air that I would be twice absorbed in the works of Harlan Ellison when he left the mortal realm.
Looking for a good book? Harlan Ellison's The City on the Edge of Forever is a collection of his various version of the popular Star Trek script, along with his anger at how he was treated in regards to that script. It is required reading for Star Trek fans.
I purchased a copy of this book.
* * * * * *
City on the Edge of Forever
author: Harlan Ellison
publisher: Open Road Media Sci-Fi & Fantasy 
ASIN: B00J90ET90
Kindle Edition, 326 pages