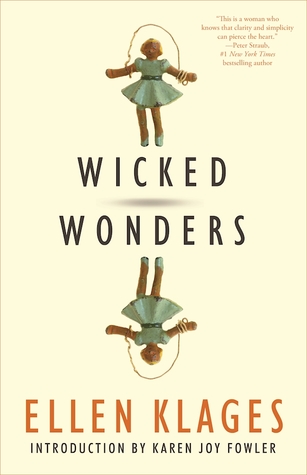 I'm sorry to say that I know nothing about Ellen Klages.  I'm sorry about this because this was a really tremendous collection of short fiction.
I'm not quite sure how to define these stories – there's a wonderful, eclectic mix of fiction here, from style to genres, dramas and comedies. The stories flow easily and the characters are smart, clever, funny, sad, and very, very real.  As Karen Joy Fowler writes in her Introduction:
Ellen's young protagonists are both tough and sensitive. Like so many of us, they don't quite fit in. So they're always looking for the chance, unavailable in their homes and schools and communities, to be their true selves. This desire to live authentically, to speak with one's true voice, is where Ellen's work cuts the deepest.
There really isn't a bad story in this collection and I haven't been this excited about a collection of stories since I read Margaret Atwood's Bluebeard's Eggs back in 1986. A few stories stood above the rest….
In "Hey, Presto!" a young girl visits her father – a magician – in London and the two bond over the science behind the tricks.
Like many nerds, I consider myself a gamer – board and card games, not video games – and "Friday Night at St. Cecilia's" had an interesting game theme that really hooked me.
"Goodnight Moons" is the most science fiction-y story in the collection and yet, like most great fiction, it's about people. In this case, a woman has fought her whole life to be an astronaut on a Mars mission. Once in flight, a serious complication arises and the woman, Zoe has a serious, life-changing decision to make.
Possibly the best story in the collection, "Woodsmoke," is intense and beautiful in some way.  The sense of nostalgia is strong for those of us who are old enough to remember summer camp with some fondness. The story is really powerful.
"The Scary Ham" is a very funny story which is more of a memory than a piece of fiction.  Here Klages brings us into the room with her remarkable writing, whether we want to be there or not.
It is because of books like this that I keep reading works by authors I am not already familiar with … the delight in 'discovering' a powerful literary voice. This collection is highly recommended.
Looking for a good book?  Wicked Wonders by Ellen Klages is a collection of short stories that are powerful, touching, and very much worth reading.
I received a digital copy of this book from the publisher, through Netgalley, in exchange for an honest review.
* * * * * *
Wicked Wonders
author: Ellen Klages
publisher: Tachyon Publications
ISBN: 1616962615
paperback, 284 pages