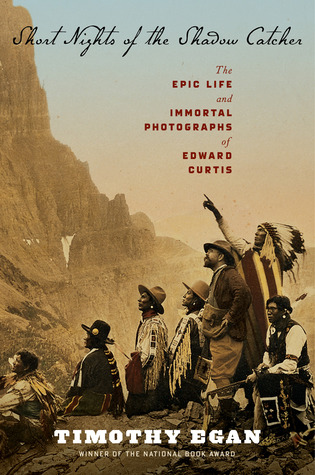 My only regret with this book is that it took me so long to read it.
Edward Curtis was a photographer in the very early days of photography.  Apprenticed as a photographer in St. Paul, Minnesota, he later moved to Seattle and became interested in photographing Native Americans.  He was often and long supported by Theodore Roosevelt and trusted by many Native Americans who gave him access to their daily lives and rituals, which he documented with his cameras. His book, The North American Indian (backed financially by J.P. Morgan) was to become almost the definitive work on America's Natives and would span twenty volumes and remains one of the only records of the early Native Americans.  Curtis also is credited with making the first "narrative documentary" film (In the Land of the Headhunters aka In the Land of the War Canoes).
Author Timothy Egan has clearly done his research in preparation for this book as he follows Curtis' travels quite closely and draws from multiple sources to suggest attitudes and motivations.
I was touched by the way so many Native American tribes welcomed Curtis and allowed him to document some of their most private ceremonies in addition to their daily lives.  And I was caught up with Curtis's drive and motivation.  He definitely moved swiftly and his motivation was high when he had the full support of Roosevelt and/or Morgan, but when times were tough and lean (and they were, especially near the end of his life) his interest was strong enough that he looked for ways to continue with his work.  He was almost as much a salesman as a photographer (which, unfortunately, is often the case).
In so many ways, it seems that Curtis was so passionate about creating his masterpiece – the twenty-volume The North American Indian – that it was his down-fall.  He spent so much time , energy, and money on it, to get as complete and perfect as possible, that he ignored too many other things in his life.
Egan does point out that Curtis did sometimes stage his photos.  We seem to think of this as somewhat of a cardinal sin today (despite the fact that so many photographers now 'photoshop' their pictures), but we don't take in to account the quality of the equipment or the speed in which photos were taken around the turn of the century.  Those weren't 'point and shoot' days.
My Kindle ARC copy of the book did include some photographs, though I wished there more – what was there was impressive, but it only scratched the surface of what exists as Curtis's collection.
I very much liked Egan's research and narrative here.  I found the subject of Edward Curtis quite fascinating, and his subject – the 'Indians' of North America are still an under-represented people in our history books.
This deserves reading.
Looking for a good book? Short Nights of the Shadow Catcher by Timothy Egan is a remarkable history/biography of Edward Curtis – a photographer who documented Native Americans at the turn of the twentieth century.
I received a digital copy of this book from the publisher, through Netgalley, in exchange for an honest review.
* * * * * *
Short Nights of the Shadow Catcher: The Epic Life and Immortal Photographs of Edward Curtis
author: Timothy Egan
publisher: Mifflin Harcourt
ISBN: 0618969020
hardcover, 370 pages