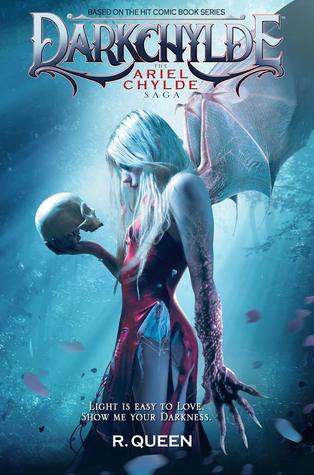 I enjoy a good horror/dark fiction read and I will be honest – I was drawn to this book because of this beautiful cover that promises so much beauty and imagination in darkness.  The book is set in a world first developed by the same author as a comic book series (a 'hit' comic book series according to the book cover).
Ariel Chylde is a high school student who suffers from horrible dreams and nightmares.  She has sudden, strange outbursts in school and as a result is treated as an outcast and pariah.  Most of us know how cruel high school students can be (does anyone NOT know the Stephen King book, Carrie?).  Ariel suffers from her peer abuse.
But on her eighteenth birthday, Ariel's nightmares become a reality.  She sprouts wings and she winds her way into her nightmare world to fend off the monsters for real. Those living in the 'normal' world don't understand what she's doing and what she's protecting them from.  Instead, they think that she's the monster who needs to be stopped.
Ariel is a wonderful character.  Despite the abuse she takes from her peers and the nightmares and her questioning her sanity and everything around her, she remains strong and willful.
Unfortunately, however, the writing was terribly uneven.  We learn at the end that this is R. Queen's first novel despite a career writing for comics, and I think it shows.  The writing, as many others have indicated, is very lyrical and poetical, but it takes more than poetry to tell a story, and the writing necessary to tell a 32-page comic and/or a multi-comic series, is very different from building a story for a novel.  Most of the book is from Ariel's point of view but we do get occasional spurts – by way of very short chapters – from someone else's point of view. This might work easily in a comic when we can see a panel or two, or even a page, but in a novel it tends to slow us down more – unless the alternating points of view are balanced well to tell the story.
And while the writing is poetical and lyrical at times, it sometimes felt like poetry in place of story. We gloss over character development to spend time waxing poetic about dark descriptions and monsters.  The descriptions in the comics come by way of the art, where we can absorb description and action and dialog all at once.  In a novel we can only take it in a word at a time – this is where the seasoned story-teller understands the balance and where R. Queen is very uneven.
I wanted to like this, and hoped that the story would live up to the great cover.  I suspect I would have really liked the comic/graphic novel. But this book, as a work of fiction, doesn't hold up.
Looking for a good book? Darkchylde: The Ariel Chylde Saga is based on a comic book, both by R. Queen.  The comic is probably a better place to go to get this story as this is extremely uneven and a struggle.
I received a digital copy of this book from the publisher, through Netgalley, in exchange for an honest review.
* * * * * *
Darkchylde: The Ariel Chylde Saga
author: R. Queen
publisher: Curiosity Quills Press
ISBN: 1620074125
paperback, 228 pages