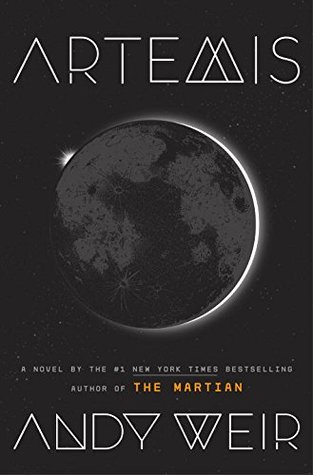 How do you follow up a mega hit? On the heels of The Martian, Andy Weir's breakaway hit that seemingly came out of nowhere, Weir does a wise thing and DOESN'T try to recreate the magic of his first book.  Instead, he goes a slightly different route.  Instead of a survivor-in-the-wild adventure story, we have a story that is more of a YA mystery. With a female protagonist.  But the hard science that we loved in The Martian is still here.
Artemis is set on the moon.  It is the name of the first, and only lunar city. Jasmine "Jazz" Bashara lives in Artemis and has since she was six – for two decades.  She's got an incredible talent for welding and it's a trade that could serve her well, but Jazz is too much of a rebel to conform to a steady, union job.  Instead, she scrambles for an existence by smuggling small-time goods into Artemis.  She dreams of the day when she can lead tours on the lunar surface – a job only a very few, highly trained, individuals get to do, and they are well compensated for their efforts.
But things have been slow and Jazz failed her most recent EVA test on the surface.  What she needs is a top-of-the-line space suit, but to get that, she needs money.
After delivery some smuggled goods to her best customer, Jazz is made an offer that she simply can't refuse.  The customer has a plan to take over the production and delivery of oxygen to all of Artemis, but he needs Jazz's help in sabotaging the equipment that currently brings in the supplies.  In exchange for her work of destruction, she'll be paid a small fortune – enough to buy the suit she desperately needs.  Of course, she could wind up killing everyone on the moon while she's at it.
I really liked that this story was so completely different from the previous book.  I thought about it quite often – making the comparison that is inevitable considering The Martian's popularity. Jazz was a very different character and she was quite likable – not an easy feat given that she's a smuggler and saboteur. However, I was CONSTANTLY picturing her as a fifteen or sixteen year old. Everything she did and the way she spoke suggested a wise but immature girl, rather than a woman in her mid-twenties. I was fine with her being younger and it definitely seemed 'right' but subtle reminders of her age took me out of the story.
Jazz has a pen-pal relationship with a male on earth.  These notes back and forth only add to the suggestion of Jazz being a teen rather than a young, mature woman.  The notes are quite interesting, giving us a unique look into her personal life, and I did wonder, early on, why these missives were included in the story.  It becomes clear later on.
The science that Weir adds is great and certainly part of what we readers have already come to like about his work. Yet this sometimes felt too much – that the science explanation for something was being offered just for the sake of showing off the technical knowledge and not because it was necessary for the story.
Still…I enjoyed my time in Artemis, with Jazz and those she worked with and those she worked against.  In trying to rate this book on its own merit, and not as 'the next book following The Martian,' I would definitely find it flawed but enjoyable and something that would prompt me to want to read more by the author.
Looking for a good book? Artemis by Andy Weir is an adventure/mystery on the moon with plenty of interesting characters, solid science, and a decent story.  It is definitely worth reading.
I received a digital copy of this book from the publisher, through Netgalley, in exchange for an honest review.
* * * * * *
Artemis
author: Andy Weir
publisher: Crown Publishing Group
ISBN: 0553448129
hardcover, 384 pages