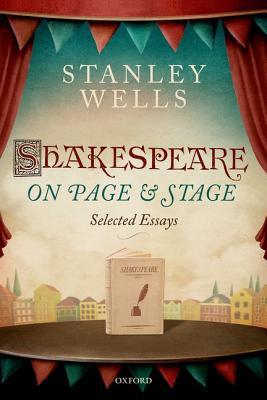 There is no end to the number of books one can find on the works or study of William Shakespeare.  The name 'Stanley Wells' is certainly familiar to anyone who's read critical essays on Shakespeare.  This book, Shakespeare On Page and Stage, is a collection of some of Wells' essays on the Bard, his work, and performances of his work.
And mostly we're left with: meh.
Some of these essays were interesting and from some I learned a thing or two, but the bulk of them really didn't add anything to my knowledge or appreciation of Shakespeare's plays.  The book collects essays in four basic themes: 1) Shakespearian Influences, 2) Essays on Particular Works, 3) Shakespeare in the Theatre, and 4) Shakespeare's Text.
While most of this is not new information, I confess I did enjoy the 'Influences' section.  For some reason I am extremely interested in reading some of the source material for Shakespeare.  Was it inspiring, or convenient?  We'll never know.
I also happened to be reading the essay "Staging Shakespeare's Ghosts" at about the same time that I saw a production of Richard III in which the ghost were featured quite prominently, and so this particular essay really stood out for me.  I hadn't really thought about it before, but the supernatural definitely plays a big role in many of Shakespeare's plays.
There were a few essays that dealt with particular performances which held no fascination or interest for me.  A live performance is a fleeting thing, meant to be observed in the moment.  All the reports, the talk, the writings after the fact won't make me appreciate what someone once did on the stage.
The entire last section, dealing heavily with Wells and his work as an editor, more-so than with Shakespeare's work, held no appeal at all.
There's a lot of material here in this book, and there's bound to be something that will appeal to someone who has an interest in Shakespeare, but over-all this just doesn't stand up to some of the other Shakespeare criticism I've read over the years.
This volume contains the following:
Introduction by Peter Holland
I. SHAKESPEARIAN INFLUENCES
1. Shakespeare: Man of the European Renaissance
2. Tales from Shakespeare
II. ESSAYS ON PARTICULAR WORKS
3. The Failure of The Two Gentlemen of Verona
4.The Taming of the Shrew and King Lear: A Structural Comparison
5. The Integration of Violent Action in Titus Andronicus
6. The Challenges of Romeo and Juliet
7. Juliet's Nurse: The Uses of Inconsequentiality
8. The Lamentable Tale of Richard II
9.  A Midsummer Night's Dream Revisited
10. Translations in A Midsummer Night's Dream
11. The Once and Future King Lear
12. Problems of Stagecraft in The Tempest
13.'My Name is Will': Shakespeare's Sonnets and Autobiography
4. Shakespeare Without Sources
15. Shakespeare and Romance
III. SHAKESPEARE IN THE THEATRE
16. Boys Should be Girls: Shakespeare's Female Roles and the Boy Players
17. Staging Shakespeare's Ghosts
18. Staging Shakespeare's Apparitions and Dream Visions
19. Shakespeare in Planché's Extravaganzas
20. Shakespeare in Max Beerbohm's Theatre Criticism
21. Shakespeare in Leigh Hunt's Theatre Criticism
22. Shakespeare in Hazlitt's Theatre Criticism
23. Peter Hall's Coriolanus
IV. SHAKESPEARE'S TEXT
24. On Being a General Editor
25. Editorial Treatment of Foul-Paper Texts: Much Ado About Nothing as Test Case
26. Money in Shakespeare's Comedies
27. To Read a Play: The Problem of Editorial Intervention
28. The First Folio: Where Should We be Without it?
29. The Limitations of the First Folio
Afterword by Margreta de Grazia
Notes
A Select Bibliography
Acknowledgements
Index
Looking for a good book? Stanley Wells is a noted Shakespeare scholar and his collection of essays, Shakespeare On Page and Stage, provides some insight into the playwright and his work, but nothing here is too earth-shattering or revelatory but instead is a rehash of knowledge but with Wells' take on it.
I received a digital copy of this book from the publisher, through Netgalley, in exchange for an honest review.
* * * * * *
Shakespeare on Page and Stage: Selected Essays
author: Stanley Wells
publisher: Oxford University Press, USA
ISBN: 0198786549
hardcover, 300 pages