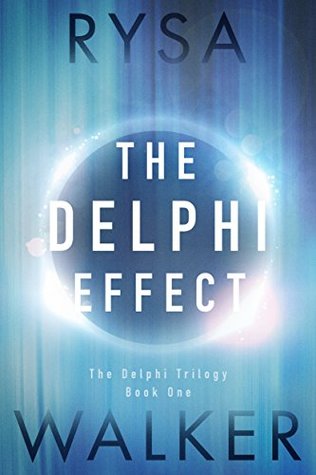 Seventeen year old Anna Morgan communicates with ghosts.  It happens without warning and it's no wonder that she struggles to stay focused and the foster homes she's been in shuttle her around and don't want to have to deal with her.  When she comes into contact with another young girl, this one brutally murdered, Anna is drawn into a conspiracy that reaches deep into the government.  Meanwhile a covert operation is trying to recruit Anna because of her gifts, but kidnap one of Anna's few close friends, causing Anna to focus on them with the intent of bringing them down.
Author Rysa Walker has created an interesting (though not a particularly original) world here and what starts out as a murder mystery becomes a political thriller aimed at a young adult readership. The teens' talents are what keeps the book most interesting, but it's the relationships between the teen characters that moves the story forward.
While I liked the ideas and themes I felt that the book was terribly uneven. I would be really interested and invested for a while, and then I'd be completely bored for a few chapters.  Then there's be a burst of action  and it would catch my interest, and then there'd be great periods of time where the teens just talk and repeat themselves and it didn't feel like the story was moving forward and I'd be really bored again.
Clearly I wasn't invested in these characters.  I didn't find anything about them that really made me care about what they were doing – most of the time.  I was willing to buy into the concept early, but I couldn't keep that interest all the way through.
I thought I would like this, based on the description and the number of high ratings the author has received for her works, but this book definitely didn't work for me.
Looking for a good book? The Delphi Effect by Rysa Walker has some interesting ideas, but the writing is uneven and often too slow.
I received a digital copy of this book from the publisher, through Netgalley, in exchange for an honest review.
* * * * * *
The Delphi Effect
author: Rysa Walker
series: The Delphi Trilogy #1
publisher: Skyscape
ISBN: 1503938824
paperback, 372 pages