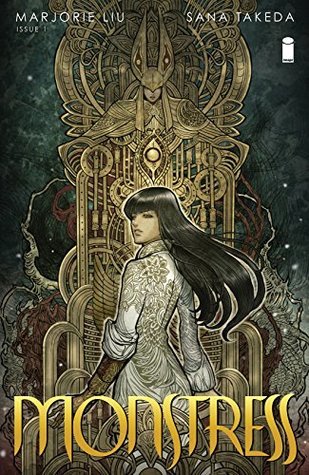 This first issue of Monstress from Image Comics has everything I love about the 'indy' comics companies (if Image can still be considered 'indy').  Absolutely stunning art and a story that is dark, dangerous, and so sooo compelling.
Humans, mutants, and monsters live together in a world where the humans have enslaved the mutants and monsters – sometimes selling them, sometimes performing cruel and absolutely inhumane tests on them.
In this first issue we meet Maika, a young girl who looks very human, despite missing an arm, who is sold to a wealthy woman, Lady Sophia.  Maika is placed in a cell, next to a cute little human/fox child, and they watch as other mutant monsters are taken away (and we later see the dissection of one of them).  When the guards come to take away the fox-child, Maika's power, which she seems to have worked hard to repress, comes through.
This is a horrific story, and there are certainly going to be some who won't be able to stomach it, but author Marjorie Liu is wise to couch this sort of horror in a fantasy world, even though the same, or worse, has been done by man to man.
Sana Takeda's art is simply gorgeous.  Too often we see comics and graphic novels in which the cover is stunning but the interior art doesn't live up to the cover promise.  Not so, here.  This art deco-like, beautiful art is on every age, in every panel.  It is a visual feast of sumptuousness.
I am really hooked, based on this first issue and look forward to issue number two.
Looking for a good (comic) book?  Monstress #1 by Marjorie Liu and Sana Takeda is gorgeous and terrifying and an absolute page-turner.
I received a digital copy of this book from the publisher, through Netgalley, in exchange for an honest review.
* * * * * *
Monstress #1
author: Marjorie Liu
artist: Sana Takeda
publisher: Image Comics
ASIN: B016L1SZGC
paperback, 72 pages
---
After reading the 70 page first issue of Monstress, this 22+ page second issue feels so short.  The story barely gets going when the issue is done.
Issue #1 did an awesome job of grabbing the reader's attention and introducing a couple of the major players.  Issue #2 now starts to give us a little background on the world in which this is set.  There are humans and there are the Arcanic and they've been fighting a war; and there is a wall between the two.  Our protagonist, Maika, is a survivor (barely) of this war and she is on the wrong side of the wall.
Some witches (I think they're witches) are searching for someone.  A woman identified as "Inquisitrix" finds Maika and the two-tailed cat in the woods.
It's difficult to really identify with this issue because it's so much set-up, but author Marjorie Liu has done a remarkable job of keep the reader interested, yet hasn't given too much away.  There are still more questions than answers and seeking those answers will keep the reader coming back for another issue.
Seeking answers … and the tremendous art.  Once again Sana Takeda is showing us what comics can be. You don't need to sacrifice quality pictures to move the story along quickly.
I am curious … so curious to see what comes next.
Looking for a good book? Monstress #2 slows down from the pace set in the first issue, but begins establishing the world history and character goals.
I received a digital copy of this book from the publisher, through Netgalley, in exchange for an honest review.
* * * * * *
Monstress #2
author: Majorie Liu
artist: Sana Takeda
publisher: Image Comics
asin: B018RDD6W0
paperback, 33 pages