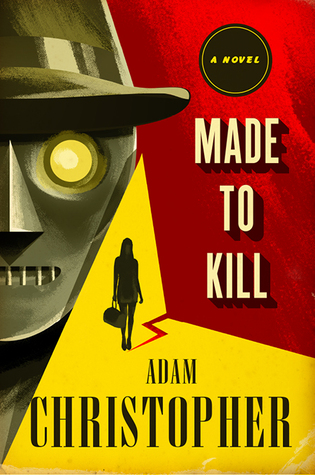 How do you take a classic noir mystery theme and make it fresh?  Make the noir detective/assassin a robot, of course!
Adam Christopher's sci-fi/noir/humor book, Made to Kill, is just plain a lot of fun to read.  In so many ways it reminded me of a lot of the Ron Goulart books I read in the late 1970's/early 1980's.
Raymond Electronica is the last robot of a proposed series of killing machines sponsored by the U.S. government.  Now, Raymond, a hit-man who acts as a private detective for his 'cover,' is about to be brought into a plot that involves the Russians and radio-active materials.  Helping Raymond is Ada, a desktop computer back at the office who helps control Raymond's memory as his own memory runs off of tapes that have a 24 hour limit to them.
While this book isn't going to provide any long-lasting memories or change the nature of fiction, it does provide a really fun read.  The mystery aspect is very well done.  It starts small and slowly opens up to a crises of tremendous proportions.  It's some very clever crafting by Mr. Christopher.
Raymond's personality is very well-defined.  Somehow the author managed to create a machine that has a number of human traits, and yet we never forget that he is a robot.  This is done through the dialog and clever writing.  Raymond's handler, Ada, on the other-hand, often came across as much more human than 'she' is.
Essentially…I was caught up in the story and I really liked the characters, even if the 'villains' were a little 'Boris & Natasha' stereotyped.  I had a lot of fun and I wanted to keep reading.  But now that the book is done, it doesn't hold a lot of memory (ie: it's not going to be on my 'favorite all time' list).
Looking for a good book? Made to Kill, by Adam Christopher, is the perfect beach read for those who like a little sci-fi or a little humor/noir at the beach.
I received a digital copy of this book from the publisher, through Netgalley, in exchange for an honest review.
* * * * * *
Made to Kill
author: Adam Christopher
series: The L.A. Trilogy #1
publisher: Tor Books
ISBN: 076537918X
hardcover, 237 pages