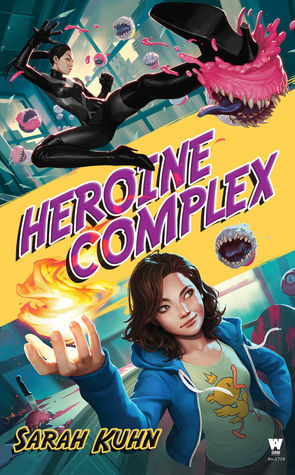 There are demons coming through portals that open without warning over San Francisco.  The demons inhabit the first thing they come in contact with, which can make for an interesting battle when you're facing off against … say … cupcakes with teeth.
But along with demons who are only moderately tough, come super-powers to the people of Earth.  Super-powers that are moderately helpful.
Aveda Jupiter uses her powers (which are really mostly martial arts skills honed through a lot of practice) to become a rising star and social media star.  To help her with this is her assistant, Evie Tanaka.  Evie's job is to video record Aveda's fights and to broadcast them live and have replays online so that Aveda can stay on people's thoughts.  It's a tough, and often thankless job, assisting Aveda, but Evie enjoys it, even though she's sometimes in the path of a demon with no skill other than her camera work.
But when Aveda is struck with a power-crippling curse, she asks Evie to be her stand-in at an event.  Evie is more comfortable behind the camera than in front of it, but Aveda convinces her that it's just a matter of getting some photos and waving a bit.  She's in costume, so no one will know it's not the real Aveda.  What could go wrong?  Right?
But of course things do go wrong – or things go right, depending on your point of view.  San Francisco gets a new superhero … and a social media reviewer who has nothing good to say about this new hero.  Why is that?
This book was just downright fun.  Clearly targeted to a young, female readership that has become interested in superheroes thanks to some blockbuster films the past few years, it put s a refreshing spin on the whole superhero genre.  It keeps it simple and suggests that some people may become superheroes for fame rather than for doing what's right.  The action moves along and Evie is the sort of protagonist you can easily see young girls being drawn to.
Aveda, on the other hand, is someone we don't really ever seem to know.  Although Evie is the main character in the book, knowing a little more about Aveda, the person for whom Evie works, would be helpful in understanding this world.
But the book is about Evie, and she's a bit of a wall-flower, very absorbed in her job.  So much so that she hasn't had sex in, like, forever.
I'll admit I'm still a little surprised at the amount of sex there is in books targeted toward teens.  While the sex in this book isn't described in graphic detail, there are two sex scenes within that are among the steamiest sex scenes I've ever read.  Definitely hotter than many of the graphic adult novels I've read for this blog!
All in all, it was a lot of fun.  I'd like to know more about the world that Evie and Aveda live and fight in, and I can see where a few sequels might be in store for the reader.
Looking for a good book?  Heroine Complex, by Sarah Kuhn, is a fun, fast superhero romance for a YA audience and might be just the perfect read for a lazy summer day.
I received a digital copy of this book from the publisher, through Netgalley, in exchange for an honest review.
* * * * * *
Heroine Complex
author: Sarah Kuhn
publisher: DAW
ISBN: 0756410843
paperback, 368 pages