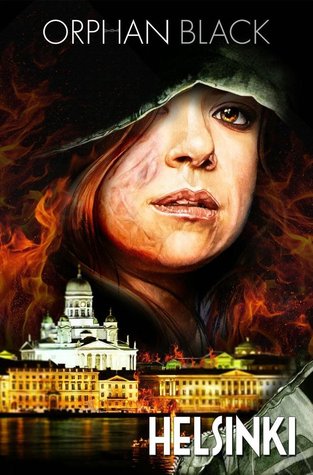 Where have I been that I knew NOTHING about this series?  Not only is this a compelling graphic novel, it is apparently a BBC television show in its fourth season.
In this book we have a young woman, Veera, with a scarred right side of her face, in Helsinki, Finland in 2001 on the run from her pervert 'uncle' whom she has just learned has been spying on her.  When she turns the tables and spies back, she learns that there are other girls he's watching so she tries to track them down to warn them.  But there's something unusual about the other girls… although their hairstyles are a little different, and they aren't scarred the way she is, the other girls look just like her.  With a little more investigating she discovers more girls her age with identical appearance (save for hair styles).  And it seems that every adult in their lives knows about this creepy 'coincidence.'
As I say…I had never even heard of this BBC television series, but it's definitely in my Netflix queue now!  I found this story to be absorbing and compelling.  This book really focuses on Veera and it's really nice to have a central point of view.  It could easily have switched back and forth and followed some of the other look-alike girls (maybe other volumes do?), but the single, consistent story-line helps the reader focus and move forward.
At one point there is a group of look-alikes meeting and it becomes almost a bit of a stereotype of characterization.  There are those who refuse to believe it's anything other than coincidence, those who don't think they even look alike, and those who see something nefarious going on.  It's the only moment that didn't feel right to me.  As if, for just a moment, someone felt the need to get multiple points of view on what was happening.  But as we're following one person, the multiple points of view are unnecessary.
The art is above-average comic book art.  I can't imagine how difficult it must be to draw a series of characters who are supposed to look alike but different at the same time.  And yet Alan Quah (? … my ARC does not list credits) does it well.
I am really intrigued and hooked.  I can't wait to get more into this series (comic and television).
And as a side note… this held a special appeal to me as I was just in Helsinki less than a month ago (as I write this) and it was really nice to see a number of locations that are fresh in my mind.
Looking for a good book?  Orphan Black: Helsinki is a tremendous graphic novel (based on a British television series) that will draw you in and have you wanting more.
I received a digital copy of this book from the publisher, through Netgalley, in exchange for an honest review.
* * * * * *
Orphan Black: Helsinki
authors:  Graeme Manson, Denton J. Tipton, John Fawcett, Heli Kennedy
artist: Alan Quah
series: Orphan Black #2
publisher: IDW Publishing
ISBN: 1631405837
paperback, 120 pages