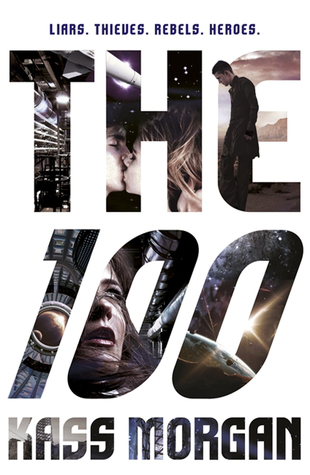 I recently went to review my backlog of ARC titles – it may seem ambitious (especially when you realize I have over 400 books in my queue), but I really want to try to read and review every review copy I've ever gotten.  So I was looking through my list and came across The 100 by Kass Morgan.  It so happens that I've been watching the TV series, on-line, that was based on this book, so it seemed like this might be a good time to catch up on this particular reading.
The story:  At some point in the future, a nuclear war devastated the Earth and the surviving humanity moved to spaceships in orbit in order to avoid the radiation fallout.  But life in orbit for generations is taking its toll on humanity.  There is a great deal of restlessness, as evidenced by the large number of teenagers imprisoned for a variety of crimes aboard the ships.
The teens – one hundred of them – are about to be sent down to the planet as guinea pigs to see if it might be safe to send other people, currently living on the space crafts.  Unknown to all but those in command, the spaceships are showing signs of wear and will soon run out of the necessary oxygen to keep the population alive.  They must test the conditions of the planet, and the criminal teens are the best, most expendable option. Getting to the planet is the easiest action that the 100 teens  will face.  Surviving on a planet none of them have ever seen will greatly test their tenacity and determination.
This is a YA book, targeted toward those moody teens who see life as 'them against the world' and when you have as the focus of the book 100 teenagers who have been branded as criminal and sent as test subjects to a dangerous world … how much more 'against the world' can you get?
There are hints of the classic YA characters (full of pathos and angst), but it's not over-done.  Because the story is told from multiple viewpoints, we don't spend too much time with any one character type.  It is nice to see the situation from multiple points of view.  However, our central characters all seem to be pretty much stock characters – not offering too much in the way of originality.  And this is always difficult for me to comment on.  The characters are stereotypical – characters that we see time and time again in similar fiction.  But people such as myself tend to read a lot, which is why we recognize this.  But the target audience are not likely to be so familiar with these common characteristics – this may be their introduction to these characters, in which case it works just fine.
It's impossible for me to separate this book from the television show, which I have been watching.  There are aspects of the book that I really like, but on the whole, I found myself thinking "I like the way they do that on the show much better" fairly often.
Not a bad read, but the television show is better.
Looking for a good book?  As the inspiration for the television series, Kass Morgan's The 100, is a good YA read, but those who read a lot will find the people in this book to be stock YA dystopian-future characters.
I received a digital copy of this book from the publisher, through Netgalley, in exchange for an honest review.
* * * * * *
The 100
author: Kass Morgan
series: The 100 #1
publisher: Little, Brown and Company
ISBN: 0316234478
hardcover, 328 pages