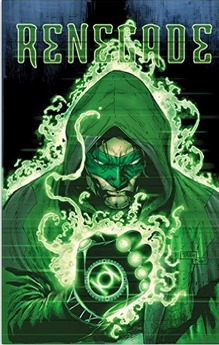 I've long been a fan of the Green Lantern series of comics/graphic novels, though for whatever reason, I haven't read too many of them here for this review blog.
This book is a good companion piece to the graphic novel Green Lantern Corp: Lost Army Vol 1, which I reviewed last week.  In that book, the Green Lanterns are trapped in an alternate universe, looking for a way to return.  In this book, the missing Lanterns are referenced and the astute reader will get a glimmer of what has happened, but that isn't really the story – it's just a teaser for a future story.
Here, Hal Jordan, a renegade, is first seen trying to remain anonymous in a crowded alien bar when the local authority try to put him under arrest.  Hal is no longer a lantern, with a power ring, but he still has the power of a lantern, perhaps more so, with his new power-glove (see the cover above).  But someone like Hal is never going to stay out of the picture or out of trouble.  He picks up a new friend, a Viceroy of Ketleth Prime, Virgo, from a gladiator-type arena, along with Virgo's abductor.  Aboard a ship with a rather annoying A.I. that talks back to Hal, the three move through the galaxy until Hal finds trouble again.  This time it's the Black Hand.  But now he's got a new power – when he touches something, it turns to stone.  He is destroying entire planets with his new-found power.  And it's frustrating him.  Hal must stop Black Hand before he moves on to Earth (his next target), but must defeat him without actually touching him.
And just in case that wasn't enough, Hal also encounters Relic, a giant figure who has been studying a massive wall that separates alternate universes.  The wall has been cracked and is eroding.
Overall, I enjoyed the story-telling here, though I did grew bored a bit too often.  This book could be trimmed by two-thirds without losing any sense of the story, and the additional 'crew' aboard Hal's ship could have a sense of personality – they are dull and add nothing to the story worth remembering.
But my biggest problem here is the art.  Most of the art is 'fair' at best. I was reading this from a digital copy and it is not sharp, but rather a bit muddy.  Even if this is simply a case of the ARC being of lesser quality, the art by Billy Tan is acceptable at best.  But when Tan is not doing the art, it goes downhill fast.  One section of this graphic novel (one issue of a comic, presumably) has art by Pascal Alixe and Martin Coccolo.  I'm not quite sure how to describe this art.  I truly thought that the story suddenly had a 13-year-old girl who was trying to imitate Hal Jordan.  I had to back page and re-read a portion of the story to make sure that the character I was now seeing was still Hal Jordan and that it wasn't intentional that he suddenly looked thirty years younger (and feminine) – that it was just the quality of the art.
I am so very disappointed in the quality of art in some of the graphic novels these days.  The major publishers seem to have a problem with consistency (and quality) while some of the indy publishers seem to be willing to use stick figures to convey their stories.  If it's a graphic novel, the art must be able to carry the book.  It needs to complement the story and not bring it down.  The art in this Green Lantern book does NOT complement the story.
Looking for a good book?  Green Lantern Vol. 7: Renegade has an interesting story and works nicely with the new Green Lantern Corps book that was also recently released, but the story rambles aimlessly too much and the art is inconsistent, ranging from acceptable to poor.
I received a digital copy of this book from the publisher, through Netgalley, in exchange for an honest review.
* * * * * *
Green Lantern Vol. 7: Renegade
author: Robert Venditti
artists: Billy Tan, Mark Irwin, Scott Hanna, Ethan van Sciver, Martin Coccolo, Pascal Alixe
publisher: DC Comics
ISBN: 1401261256
hardcover, 208 pages