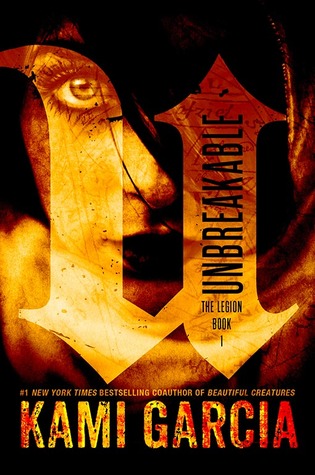 I have a long backlog of Advance Reading Copy (ARC) books and I dip randomly into the pot and pull one out to read.  Such was the case with Unbreakable by Kami Garcia.  I was very glad to have selected this book – it is an enjoyable read.
Teenager Kennedy Waters discovers her mother dead one day and her world changes in unfathomable ways.  When a cat tries to kill Kennedy, the girl is rescued by strangers … twin brothers Jared and Lukas Lockhart. The boys explain that Kennedy's mother was a member of a secret society with supernatural powers saving the world from demonic uprisings.  But the demons are winning and Kennedy, the twins, and two others (Priest and Alara) are all that's left.  Unfortunately, Kennedy's mother never shared any of this her and this supernatural world takes her by surprise and she has no idea what her special ability might be.  But since she's now being hunted by human police (as a runaway or a kidnap victim) and by demons she has no choice but to stay with Jared and Lukas and the society, which isn't so bad except it means she also has to confront her attraction to them while confronting ghosts who want her dead.
I found this to be a really exciting YA paranormal story.  We have the typical teen-aged girl suddenly on her own in a threatening environment, which is one of the staples of a YA book.  She thinks her situation in the world is unique to her and that no one could possibly understand what she's going through.  And she's faced with true love, but for the good of all or good of the world, she must be a martyr and ignore this true love.  She is full of pathos and reflection.
And while this book manages to have all the things that one looks for in a YA novel, it manages to do it in an original way.  Having recently read another YA novel in which the pathos took over the entire story, this was a nice change.  There was a nice balance between story, mystery, action, love, and reflection.  We didn't dwell too much in any one spot.
Garcia's writing is tight which makes this very nice and easy to read.  And the world-building is strong.  I haven't read too many 'ghost story' novels but of the one that I can think of (the Jonathan Stroud "Lockwood & Company" series) complements this well with some common ghost fighting measures.  But there were some things that were unique to this book (for me, at least). ("Spirits absorb the energy from things around them, including batteries.")
I particularly liked the scene in which Kennedy faces a room full of the ghosts of children who are trying to communicate with her.  It manages to be frightening and still show some hope.  Garcia's command of the story and her characters really pays off in scenes like this.
A solid mystery in a better than average YA setting made for a terrific read.
I've since read a number of the negative reviews on Goodreads (mostly because they are from readers whose reviews I follow and respect) and I will say I'm disappointed in the comparisons to a television show.  I know this is because the publisher or author has included this comparison in their synopsis of the book.  But perhaps because I am not a big television watcher any more, I could not compare this book and take it on its own merits.
Looking for a good book?  Unbreakable, by Kami Garcia, is a strong paranormal YA novel that will have the reader on the edge of his/her seat while empathizing with the protagonist to understand this strange new world.
I received a digital copy of this book from the publisher, through Netgalley, in exchange for an honest review.
* * * * * *
Unbreakable
author: Kami Garcia
series: The Legion #1
publisher: Little, Brown Books for Young Readers
ISBN: 031621017X
hardcover, 305 pages