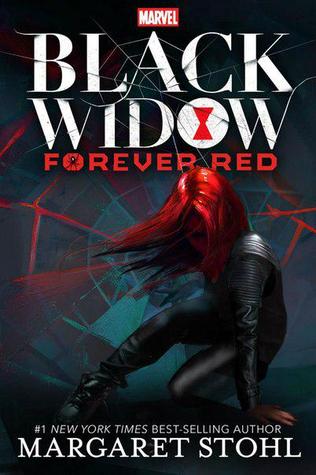 I often enjoy reading novels featuring characters from another medium. TV and movie tie-ins?  Yes.  Novels of comic book characters?  Yes.  But since comics are now typically called graphic novels, reading a novel isn't such a far away concept.  It's just a story without the pictures.
In Black Widow: Forever Red, by Margaret Stohl, Marvel has hit upon a great way to capitalize on the popularity of thee popular Avenger's movies, and also to potentially draw in an audience that isn't typically attracted to comic book heroes — the YA, teen-age girl audience.
Natasha Romanov (aka The Black Widow) is a perfect YA hero.  She's tough, but emotionally scarred and conflicted.  If you've read much YA, you probably know that this describes many of the protagonists in YA fiction.  But this book goes a step further and adds in a teenage girl – a protegé of Natasha's in some ways – who has been the subject of some scientific testing by the Soviet military.
Author Margaret Stohl does a nice job of weaving in the various Marvel elements, specifically S.H.I.E.L.D., and keeping true to the 'universe' as defined by the blockbuster Marvel movies, and yet creating a story that stands alone and could appeal to someone who isn't already familiar with the characters.  This is no small feat.
We find here a Natasha who is much more the YA hero than usual as we get in to her thoughts and her ruminations on all that she's been through.  She is introspective and we don't see as much of the kick-ass fighter as you might expect.  But the pacing of the action and the development of the characters is quite nice.
For my tastes there was too much emphasis on the secondary character, Ava Orlova, and it felt as though this book was nothing more than a set-up to introduce a new character/hero.  There's nothing wrong with that, unless it's at the expense of a story about the main character.  Is this such a case?  Possibly.
But I do enjoy my tie-in books, and I did appreciate spending some time with a character that is otherwise too often overlooked.
Looking for a good book?  Black Widow: Forever Red, by Margaret Stohl is, appropriately, a YA novel that should appeal to the female YA readers looking for a super-hero character that they can relate to.
I received a digital copy of this book from the publisher, through Netgalley, in exchange for an honest review.
* * * * * *
Black Widow: Forever Red
author: Margaret Stohl
publisher: Marvel Press
ISBN: 148472643X
hardcover, 304 pages