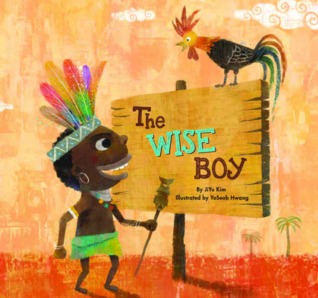 What do you look for in a child's picture book?  For the story, you want something that is simple and direct with a message that is easy to understand but morally straight.  For the art, you want something that is bright and bold.  Something that children can look at and see things that are recognizable and fun.  The Wise Boy, by JiYu Kim, has all of this.
"In an African village," the book begins, giving it just a slice of exciting adventure because Africa is a faraway land, "there lived a boy so wise that he was made a chief.  His name was Wusuri."  A boy, probably not much older than the child listening to the story, who is so wise he's made chief!  Again, in this simple first sentence we've set up an exotic location and we've hit upon a child's desire to be recognized as something special.
Through the course of the book, Wusuri listens to the problems in the village and, mostly through common sense, comes up with an acceptable answer for solving the problems.  With one particular problem (villagers fighting over claim to a chicken), I was not happy with Wusuri's solution, but as I turned the page, I realized that his solution was really a 'trick' to finding the real owner.
The story ends with a reminder that Wusuri, great chief though he may be, is still a child who relishes his mother's love.
The artwork is really beautiful with a hint of native African styles and designs, but somehow managing to be modern as well.  I could stare at this artwork for a very long time and I expect most youngsters listening to the book could as well.
I am a little sad, however, that everyone in this little village seems so angry (in appearance and in manner).  It is too bad that he couldn't solve at least one problem that didn't have to do with quarrelsome villagers but fixing, perhaps, a problem of nature.  In any event, this is definitely a  book that I would read to children and one that I am confident would want to be heard/seen again and again (the real measure of a good children's book).
Looking for a good book?  The Wise Boy is a wise choice for anyone looking for a good, new picture book for children.
I received a digital copy of this book from the publisher, through Netgalley, in exchange for an honest review.
* * * * * *
The Wise Boy
author: JiYu Kim
artist: JiYu Kim
publisher: Norwood House Press
ISBN13: 9781599536552
hardcover, 32 pages