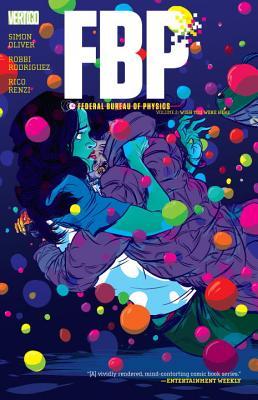 I was drawn to this book by the title.  Federal Bureau of Physics.  Physics!  I had a sneaking suspicion that this would be a story a little out of the ordinary, and one that I might be able to sink my teeth in to.  And I was right.
There are times, especially when reading, that I like reading something that might be confusing.  Typically, it's when there is a maze of realities that the reader must sort through.  For instance, the works of Philip K. Dick.  I really like those books.  And now we have something very similar in graphic novels with Federal Bureau of Physics.  Agents Hardy and Reyes are sent to watch over an old quantum physics lab in a remote little town where strange things are known to happen (think "Eureka").  At the lab, the reader is confronted with a variety of realities that the agents must navigate.  They, at least, are prepared for these alternate realities and we must ride along and try to hang on.
The art is delicious, with a slightly psychedelic look, adding to the vertigo the reader might feel while reading.
This is one of those rare books that the reader will want to read again.  In part because there is a sense that there is so much going on and a second reading might make things a little clearer.  This is a good thing.
I did get a sense that I most likely missed out on some things by not having read the first volume.  It's enough of a struggle to keep up with a work that deals with varying realities that starting out with a handicap is not fun.  This is not the sort of book that a reader will want to pick up late in the game.
I had a lot of fun, and the art was perfect for the book.
Looking for a good book?  This graphic novel might make your head spin, but if you like a story that requires close attention and promises a fun time, along with art that adds to the effect, then this is the book for you.
* * * * * *
FBP: Federal Bureau Of Physics Vol. 2: Wish You Were Here
author: Simon Oliver
artist: Robbi Rodriguez
publisher: Vertigo
ISBN: 140125067X
paperback, 160 pages