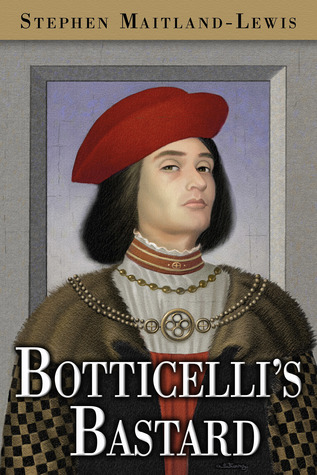 I have chosen to read a number of books with an art theme lately, and generally I have enjoyed them.  Botticelli's Bastard, a historical-fantasy-mystery novel is the latest in art-themes, and does not maintain the same quality of writing that I've seen in the other books.
Anyone who has taken a college fiction or creative writing class has certainly heard the expression "Show, don't tell."  Many of those same students likely struggle with just what this means.  It can be hard to describe, but when you see it, you can tell because the story seems flat and fails to build excitement and energy.  This book is a prime example of 'telling.'  It is also full of dialog that appears to be pulled from old dime novels:
"Your wife is having an affair with her young French friend."
Giovanni recoiled a step, speechless.
"No man wants to be a cuckold, Signor Fabrizzi, but that is the truth."
Giovanni narrowed his eyes.  "You vile, cruel man.  Or whatever you are.  You are so bitter, stuck in that painting, that your only entertainment is to fabricate malicious gossip and watch others suffer as a result. …"
The story, very basically, is that Giovanni is an art restorer who inherits an unsigned painting.  The painting was stolen from a Jewish family by the Nazis in WWII.  The painting, of a Count, contains the spirit of the Count and speaks to Giovanni.  Literally.  And the Count tells Giovanni that he was painted by Botticelli.  Giovanni plans to verify the artist and return the painting to the sole surviving member of the family it was stolen from.
There is an insipid side story of Giovanni's struggling marriage ('Giovanni let her slip from his grasp, and he became equally baffled.  Her reaction was an admission of guilt. "Then it's true," he said, though still he could not bring himself to believe it.') that isn't really necessary to the plot.  I never understood why we returned to this.
I didn't mind the fantasy element of the painting talking to Giovanni … I've read enough fantasy and science fiction to be willing to accept the slightly odd premises.  And I liked that we were talking about paintings and the verification of an unsigned work by a familiar figure.  But I did mind the story-telling.  In addition to the dialog and 'telling' rather than 'showing' ("Then Giovanni had a new thought.") there were moments of odd phrasing:
His son likely thought Giovanni was senile, and from that moment forward he would treat him as an overly imaginative child who could easily bring harm to himself.
This is some weird third-person narrative that doesn't have omniscience but offers suggestions…?
Plot-wsie, it's pretty simple and straight-forward without any real mystery.  I'm not quite sure how our Count in the painting doesn't know what a photograph is but insists that Giovanni have the painting lab tested for detailed analysis to verify it was painted by Botticelli.
But the moment that struck me the most… the moment that actually had me, shall we say 'hate' this book, was three-quarters of the way through when Giovanni confronts an old family member who took part in the stealing of the painting (from the Jewish family who were sent to the concentration camp and killed) and he says, "They should have shoved you in the oven."
I generously give the book one and a half stars for the art history and general concept.
Looking for a good book?  Keep looking.
* * * * * *
Botticelli's Bastard
author: Stephen Maitland-Lewis
publisher: Glyd-Evans Press
ISBN13: 9780983259695
paperback, 286 pages