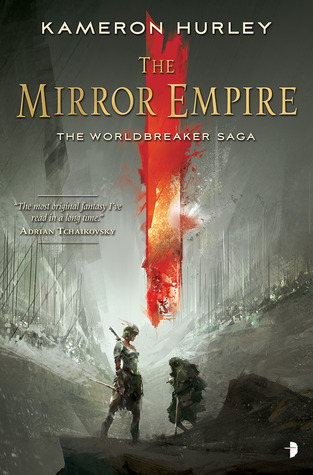 Kameron Hurley is a relatively new name in the sci-fi/fantasy world, but her first series (The God War trilogy) took the genre by storm.  The question now, of course, is can she repeat her success?  The Mirror Empire, book one in her new "The Worldbreaker Saga" suggests that the answer is "yes."
There's no doubt about it … the saga is on an epic scale.  Book one starts with 539 pages, and we really are only at the beginning of a 'saga.'
Hurley creates a world that manages to be utterly foreign and unusual and yet the reader is able to identify with it.  A difficult task.
Our story … *sigh* how do you sum up a an epic saga?  Let me quote from the goodreads.com page:
On the eve of a recurring catastrophic event known to extinguish nations and reshape continents, a troubled orphan evades death and slavery to uncover her own bloody past… while a world goes to war with itself.

In the frozen kingdom of Saiduan, invaders from another realm are decimating whole cities, leaving behind nothing but ash and ruin.

As the dark star of the cataclysm rises, an illegitimate ruler is tasked with holding together a country fractured by civil war, a precocious young fighter is asked to betray his family and a half-Dhai general must choose between the eradication of her father's people or loyalty to her alien Empress.

Through tense alliances and devastating betrayal, the Dhai and their allies attempt to hold against a seemingly unstoppable force as enemy nations prepare for a coming together of worlds as old as the universe itself.

In the end, one world will rise – and many will perish.
This is a decent summation, and yet it doesn't fully cover the expansive work.  What this doesn't explain is that forces from a mirror world are in the mix.
One of the aspects that I liked the most is the way Hurley treats gender.  This isn't simply a case where females take on what has traditionally been a 'male role' in fantasy, but the whole treatment of gender takes on a completely new outlook.
I have to admit to one thing, however.  I have to admit that I have a very particular reading disorder.  I recognize that not everyone has it, but I don't think I'm the only one.  The disorder?  I struggle with proper names that have an unfamiliar appearance, and especially names which resemble one another.  It is only recently that I've been able to read an enjoy Tolkien (because of a great deal of research I've spent on Nordic mythology).  Other fantasy books are similarly difficult for me, as is some of the great Russian literature, for the same reason.
In this book we have:
Hofsha
Daolyn
Zezili
Anavha
Roh
Ahkio
Caisa
Omajista
Ohanni
Kai
Ghrasia
Arasia
Lilia
Taigan
Gian
Tulana
Dhai
Dasai
Nasaka
Kirana
Gaiso
Yisaoh
That's a lot of names/titles and they all look very similar to me (that's my reading disorder).   I've seen where others talk about the 'breakneck' speed of the book, whereas this book took me weeks to read (this from someone who has been reading/reviewing six books a week!) because I constantly had to check and double-check who the characters were.  As I say, I have this problem with any fantasy with multiple main-focus characters with unusual/made-up names.
Even with my issue of the names aside, this is not light reading.  The book is a bit dark in nature and the reader will have to work a little here, and that's okay, there is a pay-off, and that is that we have a remarkable saga that will be much talked about in the fantasy literary circles.
I will look forward to the next book in the epic, and this time I will know to prepare a cheat sheet of characters (though I wouldn't mind of the publisher included a list of dramatis personae[I remember when the Niven/Pournelle epics included such a list]).
Looking for a good book?  Kameron Hurley's The Mirror Empire is the beginning of an epic fantasy that readers of the genre will definitely want to include on their reading list (but keep a scorecard of the characters)!
* * * * * *
The Mirror Empire
author: Kameron Hurley
series: The Worldbreaker Saga #1
publisher: Angry Robot
ISBN: 0857665553
paperback, 539 pages