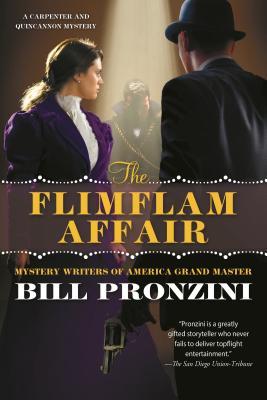 I've been reading Bill Pronzini books for about as long as I can remember.  His may not be a well-known name, but I know when I pick up a Pronzini book that I will get strong characters and a solid story. It has been a year or more since I last read a Pronzini book, but when I saw this up as an ARC, I immediately requested it.
Sabina Carpenter and John Quincannon run a detective agency in San Francisco near the turn of the century (1897). Quincannon is investigating gold theft from a railroad company when the book opens, and Sabina is enlisted to investigate a medium who is fleecing the recently bereaved men and women of San Francisco. And a case of counterfeiting brings John back to his days when he worked for the Secret Service and a man he thought was dead haunts him again.
The mysteries here are well thought-out and developed allowing the reader to experience them along with our detectives. The throwback to Quincannon's earlier days is a nice addition – especially for someone like myself who really only remembers a couple of the earliest books.
I enjoyed the relationship banter between Sabina and John – as I mentioned at the start, strong characters are a hallmark of a Pronzini story after all. This definitely made me want to read more of the 'Carpenter & Quincannon' mysteries.
And while I truly felt this was an enjoyable read, I can understand where the appeal may be limited.  I happen to really like western fiction (the first Quincannon book was an early favorite of mine) and historical fiction, and when combined with a good mystery, this is right up my alley. But I know too many people who won't read books that are 'westerns' because of preconceived notions of what that means. Let's hope that a good mystery will draw them in.
Looking for a good book? The Flimflam Affair by Bill Pronzini is a turn-of-the-century mystery with strong characters.
I received a digital copy of this book from the publisher, through Netgalley, in exchange for an honest review.
* * * * * *
The Flimflam Affair
author: Bill Pronzini
series: A Carpenter and Quincannon Mystery #7
publisher: Forge
ISBN: 0765394375
hardcover, 240 pages