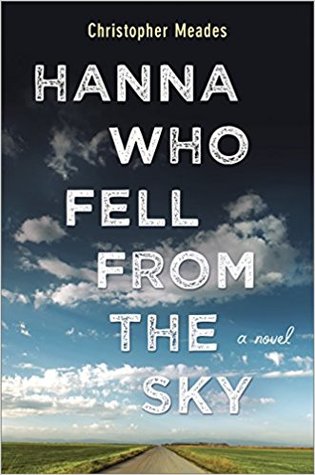 Hanna has grown up in a quaint, secluded village where men have multiple wives and trade their daughters to friends for favors. Or perhaps take a daughter for a wife. Hanna is now promised to a man her father's age and she would be his fifth wife and the expectation would be that she's to bear children. But perhaps that's better than the uncomfortable touching her father does to her. And perhaps her new husband will protect her from the police officer brothers who try to rape her.
And then Hanna meets Daniel – a boy her own age who tries to let her know that she has options, choices, and that could mean a very different life for herself and for her sister.
Since she was a little girl, Hanna has been told that she's special. Her mother often said that Hanna wasn't born the way other children were, that Hanna fell from the sky and that her parents were only her guardians. When push comes to shove (literally), Hanna comes to believe this tale, which may make her decision easier to make.
What author Christopher Meades does quite well is provide a tone for the novel that puts the reader into a specific frame of mind while reading this.  He's also given us a really interesting character in Hanna. She's both an innocent young girl and a strong young woman depending on the situation she is in, and this contradiction works nicely.
What doesn't work so well for me is the mystery surrounding Hanna's fall from the sky, and the 'backward'/commune community that Hanna is raised in. I understand that there really are communities like this today, but we are never really brought into this world. It feels like a community from the 1800's … and then they drive cars.  There is no strangeness in an area that should feel strange sometime.
I also felt like Emily, Hanna's sister, was a lost piece to the book.  She's in integral part of the opening and the ending – to the point that this feels like Emily's story – and then she becomes quite secondary throughout the middle portion of the book until we need her again to help the ending move along.
There was also a very strange moment when Hanna's mother told her to avoid the police-brothers at all costs; that the mother recognized their evil-ness and power.  Her warning is strong and is pointed and she doesn't let up until Hanna verbally acknowledges that she understands.  And then…!  Just a breath or two later the mother tells Hanna that it's very important that she retrieves a package that Hanna had left in the brothers' police car.
I was also extremely uncomfortable with the sexual threats that Hanna faced.  Whether the incest or the rape, these moments made me almost stop reading.  I recognize that making me uncomfortable was possibly the intention and, sadly, there are possibly people who would recognize these moments and look to Hanna's responses as something to emulate.
Overall, this book did not work for me, but I can understand how it might be a wonderful read for others.
Looking for a good book? Hanna Who Fell From the Sky by Christopher Meades is a frustrating book in which the world-building/setting doesn't work but the tone really grabs the reader.
I received a digital copy of this book from the publisher, through Netgalley, in exchange for an honest review.
* * * * * *
Hanna Who Fell From the Sky
author: Christopher Meades
publisher: Park Row
ISBN: 0778328732
hardcover, 342 pages