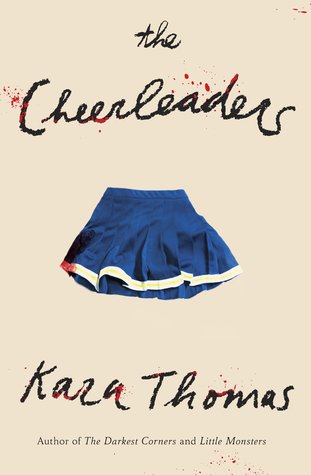 The high school in Sunnybrook does not have cheerleaders. They once did, but in a short time a number of calamities fell on the cheerleaders of Sunnybrook. First there was the car accident and two girls from the cheer squad were killed when their car hit a tree on a rainy night.  Then there was the murder and two girls were killed by a neighbor.  That man had been shot and killed by the police so a motive was never discovered.  And then there was the suicide.
All this was five years ago and now Sunnybrook High wants to remember the girls with a special ceremony.  But the emotional wounds are still a bit too fresh for some, including Monica – the sister of the suicide victim. But as memories are brought forward, new information reveals itself to Monica who now has suspicions that something else may have happened to some of those girls, particularly her sister. In her stepfather's desk Monica finds her sister's old cell phone and some strange letters. When Monica sends a text to the last person her sister communicated with on the phone, she gets a reply – but she doesn't know who it is.  And that person seems a little nervous about getting messages, after five years, from someone who died.
I would have to say that I had absolutely no idea what I was getting in to when I requested this book.  Some sort of publicity page for the book made it sound appealing to me and so I put in a request for it.   What I found was an expertly written YA mystery novel.
Kara Thomas appears to be a well-known author of YA drama, though I can't say that I'd read anything by her previously. But based on this book I'd be very interested in reading more by her.
The mystery is well put together and revealed in a very methodical, very natural-feeling manner.  I was constantly interested and never felt like I wasn't getting enough information (or too much) as I read.
But best of all, really, were the characters.  Monica, and all the people she interacted with, actually felt like any high school students today.  They weren't morosely full of pathos and going on and on, brooding and complaining about how no one understood them.  And they weren't simpletons, making every possible mistake to put themselves in more and more danger.  These characters were smart (without being geniuses), motivated, cautious, curious, and they had families…parents and siblings, and they lived and schooled inside a world much like our own.
This read was very smooth and often felt like a non-fiction work because everything worked together and felt so natural.
Looking for a good book? Fans of YA fiction or mysteries will want to make sure to read The Cheerleaders by Kara Thomas – a well-written, wonderful novel.
I received a digital copy of this book from the publisher, through Netgalley, in exchange for an honest review.
* * * * * *
The Cheerleaders
author: Kara Thomas
publisher: Delacorte Press
ISBN: 1524718327
hardcover, 384 pages