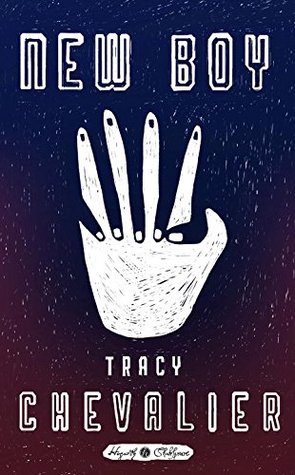 I've read a couple of these Hogarth Shakespeare books (re-tellings of Shakespeare's plays) and my reactions have been mixed. But Tracy Chevalier's New Boy is a powerful, poignant re-telling of Othello.
Osei Kokote is the son of a diplomat.  He has moved around a lot and all too often been the new boy at school.  Here he is more than just the new boy … he is the black new boy at a school without any other black students.  It is the 1970's and Osei is a sixth grade student.  Dee is a pretty girl in the new school assigned to look after Osei and show him how things are done in this school.  Dee takes an immediate liking to Osei and the two become quite friendly in the course of the afternoon with the sharing of pencil boxes and secrets.  Ian is the conniving boy, looking to create trouble wherever he goes.
The story is almost embarrassingly close to Shakespeare's Othello with character names and plot points so similar it would be hard to miss them.  But the fact that these are children – Sixth graders! – makes this even more emotionally ripping.  To see this behavior, which Chevalier makes seem so natural, is possibly even stronger than Shakespeare's work.  What hope can we have for adults when we see children this way?
Chevalier keeps the action contained within a matter of hours, which makes the book feel just a little rushed and some of the relationships a little less believable – though anyone who works with students this age will recognize the truth in this behavior.
If you know your Shakespeare (and you probably do, if you are interested in this book) then you know the likely outcome of the story as it fits within the setting of school grounds and students. There aren't any surprises here, but Chevalier does precisely what I think the Hogarth Shakespeare project sets out to do … to retell a Shakespeare work and to make it relevant to a modern readership.
It's a short book – most people could easily read this in a day – and one worth reading.  This is a powerful story, made accessible and understandable to the average, modern reader, and even more devastating because of the age of the characters involved.  This could easily become required reading in middle schools across the country.
Looking for a good book? Tracy Chevalier's New Boy is a powerful retelling of Shakespeare's play, Othello, and definitely a worthwhile read.
I received a digital copy of this book from the publisher, through Netgalley, in exchange for an honest review.
* * * * * *
New Boy
author: Tracy Chevalier
series: Hogarth Shakespeare
publisher: Hogarth
ISBN: 1781090319
hardcover, 204 pages